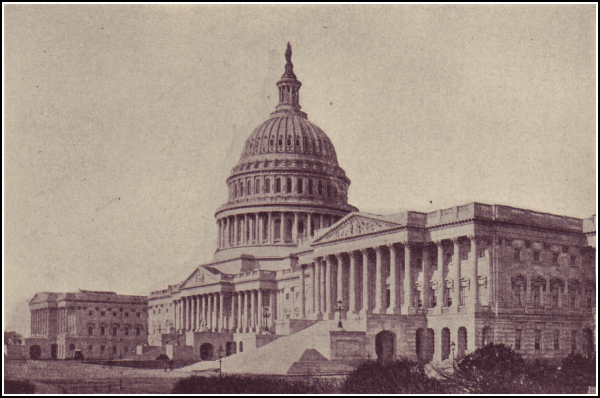 The Capitol, Washington.
The Nation
In all the history of our people up to this time, you have heard always the terms colonies and colonists; but now, after the Revolution, these colonists re-organized themselves under a new government, with a President at the head. They now called the different colonies States, and spoke of themselves henceforth as the American Nation.
For a long time after the Revolution, the kind of government they should have was a question of great dispute. Some would have liked a government similar to that of England, with a king at the head; others declared they would have nothing like the English government, and were especially determined never again to be ruled by a king—not even a king of their own choosing.
Finally, in 1787, a convention of fifty of the leading men of the country met at Philadelphia to decide upon some form of government which should, as nearly as possible, suit all the colonies.
For four whole months they worked together, and at last presented to the people the "Constitution," as it was called, which to this day forms the basis of our government.
Of course, the constitution, wise as it was, could not suit everybody. Franklin himself, who was one of the fifty who wrote it, was not entirely satisfied with it; but, with each of the thirteen colonies wanting something different from every other, it was the best that they could do. On the whole, it gave very good satisfaction; ten of the colonies—States, I should say now—accepted it at once. Three States, however, held out against it for some time. But two of them gave way without much trouble. Rhode Island, the smallest State of all—so small that it is called Little Rhody—then stood alone, stoutly refusing for a year or more to come into the ranks. This shows, I suppose, that even the little Rhodys and little Johnnies may be as plucky as the larger ones, if only they believe they are in the right. Little Rhody, however, finally gave way, and entered the Union with the same good will to all, no doubt, that had been shown by the other States.
Now a flag—the United States Flag—with its thirteen stars and thirteen stripes—was unfurled to the breezes; and the colonies were indeed the "United States of America."