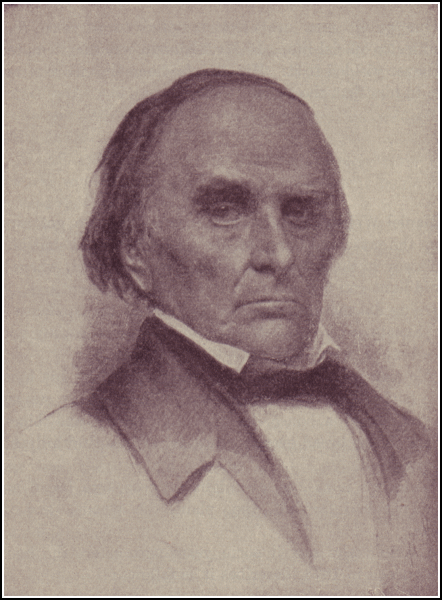 Daniel Webster.
The Home of Webster
Daniel Webster loved nothing better than to get away from the noise and hurry of his political life and shut himself away in the quiet little village of Marshfield, where he could hunt and fish and farm to his heart's content.
He used sometimes to say, "I doubt if the applause of the Senate gives me half such real pleasure as my good broad acres, with all the rest they bring me."
We can usually judge a man's character by his house and lands. Some seem satisfied with a plain, staring, square box of a house, hedged in by street and block; others choose broad grand prospects, or beautiful hilly bits of woodland.
Webster's home, as we might suppose, was broad and grand; it had the hill, the plain, the woods, and the ocean.
A writer who saw it some years ago, before the house was burned in 1878, describes it as follows:
A long, stone wall, painted white, runs in front of the farm. Within, one sees a large meadow and an old, scattering orchard. It is a broad domain. Leaving the road and entering the winding drive-way, one passes under beautiful shade-trees, till at length he reaches a large, ancient-looking white house.
Near it stood a little white building, scarcely more than ten feet square. Here the famous orator spent many days in hard thought and study.
A very interesting spot is the resting-place of Webster. We pass by the house and the large barn and little lakes and ornamental trees, and walk on through field, and meadow, and orchard.
Now we come out upon a little open plateau of land covering two or three acres. There is not a tree or shrub upon it. It is native soil, unturned by any plow.
To the north, a vast marsh stretches away for several miles. To the west, more marsh, and then higher land, with timber. To the south, a level half mile of open field;—Webster's field, and then hills and woods. To the east, low, marshy land and the sound of the surf-beating ocean two miles away. There is no house near. Only the quiet or rugged aspects of nature; of broad-handed, far-reaching nature.
It is here that the gifted senator and his family rest. On the southern slope of this elevation of land a space is fenced off by an iron railing, some eight feet high.
In this inclosure lies buried the Webster family. Within this iron fence lies the wife whom Webster tenderly loved. Also Major Edward, his son, who died in the Mexican War, and Col. Fletcher, who died in 1862&endash;3, from wounds received in his country's service. The Websters were a race of brave men.
Webster's grave is situated at the north end of the plot in this little jut of land. A mound of earth is thrown up, some four feet high, and overgrown with grass; at the head of this is a simple, pure white marble slab, some fifteen by ten inches, bearing this inscription,—"Daniel Webster."
In this obscure place reposes this man whose eloquence charmed a nation; upon whose lips ten thousand hung delighted; who walked among crowds of noble men, "the observed of all observers."