The Old Woman and the Crowbar
The Swallow and the Other Birds
The Bow
The Lion and the Gnat
The Bees
The Oak and the Vine
The Nightingale and the Peacock
The Raven and the Dove
The Fox, the Raven, and the Dove—Part I
The Fox, the Raven, and the Dove—Part II
The Fox, the Raven, and the Dove—Part III
The Fowls and the Bees
The Mice and the Trap
The Crows and the Windmill
The Elephant
The Fox and the Goose
The Ant and the Glowworm
The Sun and the Little Plant
The Pansy
The Man and the Rain
The Bee and the Beetle
The Rain Cloud
Little Lights
The Two Lizards
The Glowworm and the Diamond
The Dewdrop
The Monkey and the Camel
The Rabbits and the Dogs
The Wise Snake
The Wallflower and the Thyme
The Squirrel and the Leopard
The Mimic and the Countryman
The Cat and the Hen
Perseverance
The Horse and the Stag
The Little Mouse's Mistake
The Cock and the Diamond
The Snake and the Hedgehog
The Travelers and the Bear
The Hedge and the Vineyard
The Donkey, the Cock and the Lion
The Wild Boar and the Fox

The Old Woman and The Crowbar
Once in a land far from here and in a time far from now, there lived a little boy who hated to go to school.
"But you must go to school," said his parents. "Do you want to grow up without any wisdom?"
"But I learn so slowly!" he said, as he dragged along on the road to school.
Passing a house on his way, he saw an old woman standing before her door. She held a great crowbar of iron in one hand. This she kept rubbing and rubbing and rubbing with a small file.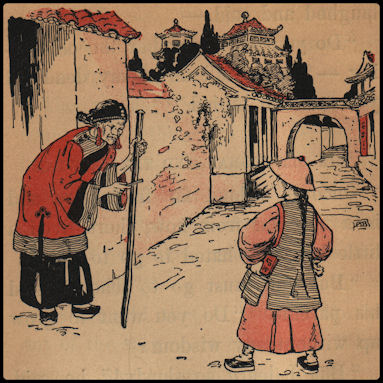 Like all small boys, this boy liked to ask questions. So he stopped and said, "Good mother, why are you rubbing that crowbar with the file?"
"I have lost one of my knitting needles," answered the old woman, "and I am making another."
"But," cried the boy, "how long do you think it will take you?"
"That I do not know. I only know that I need a knitting needle and am going to make one," replied the old woman.
The boy walked on, thinking deeply. At last he threw up his head and walked straight to school.
"Learning isn't as slow as making a knitting needle out of a crowbar with a file. I do not know how long it will take me to get wisdom; I only know that I need all the learning I can get, and I'm going to work hard," he said, as he entered the door of the schoolhouse.
And he did work hard, and grew in time to be the greatest man in all the land. The old woman with the crowbar had taught him a lesson that he never forgot, and that he taught to thousands of his countrymen.