How They Fared in the City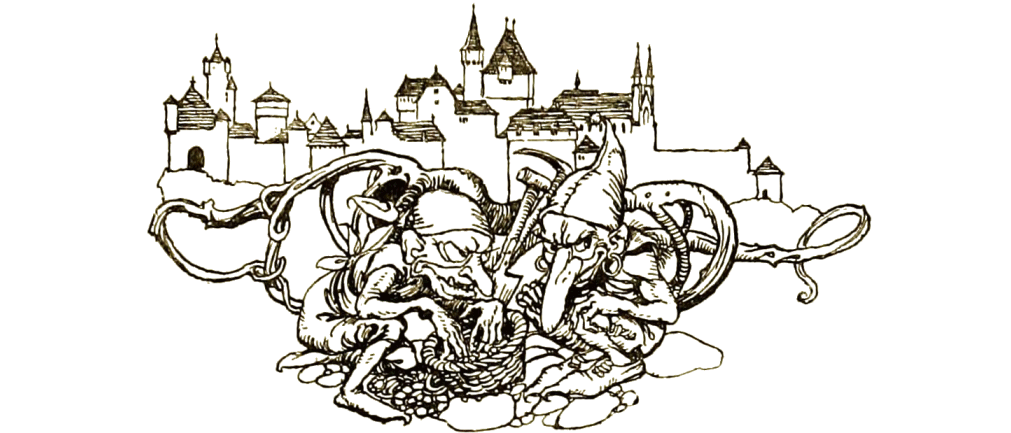 How They Fared in the City
F OR a time the story must go back somewhat and tell all that had chanced in the imperial city while Huldbrand was away in the forest. The sudden disappearance of the master of Ringstetten had indeed caused great marvel and solicitude amongst those who liked him well enough for his skill at the tourney and dance, and still more for his gentle manners and bearing. His servants were not minded to leave the place without their lord, albeit that not one of them might dare to seek him in the shades of the dreaded forest. Idle therefore they remained, idly hoping, as men will do in such case, and reminding themselves of their lost master by their outspoken sorrow. Now when full soon they were ware of the storms and floods in all their violence, they the less doubted that Huldbrand was now irretrievably lost; and Bertalda mourned for him openly, blaming herself in no small measure for that she had tempted the ill-starred knight to his fatal ride. Her foster-parents, the duke and the duchess, had come to fetch her away; but Bertalda begged them to remain with her until sure news should arrive of Huldbrand's life or death. Several young knights, who courted her full eagerly, she sought to persuade to follow the gallant adventurer into the forest. But no pledge would she give of her hand as reward for the enterprise. She ever hoped that Huldbrand might return and claim her; while, as for her suitors, not one of them cared to risk his life to fetch back so dangerous a rival for the sake of glove or ribbon or even kiss.
And now, look you, Huldbrand suddenly appeared! Great was the joy of his servants and the citizens. Almost every one was glad at his return, save only Bertalda. It might indeed please the others that Huldbrand should bring with him so beautiful a bride, together with Father Heilmann as witness of the marriage; but Bertalda could feel naught but grief and vexation. For, in the first place, she had really loved the knight with all her heart, and, in the second place, her sorrow at his absence had proclaimed her love in the public eye far more than was now becoming. Nathless, in such circumstances, she demeaned herself as a wise maiden, and bore herself in most friendly sort towards Undine—whom, indeed, all men thought to be a princess, rescued by Huldbrand in the forest from some evil enchantment. If questioned on such a matter, both husband and wife were wise enough to hold their peace, or dexterously evaded the inquiry. And Father Heilmann's lips were sealed to idle gossip of any kind; moreover, immediately after Huldbrand's arrival, he had taken his way back to his monastery. Hence it came that every one must needs be content with his own conjectures, and even Bertalda knew no more of the truth than the rest.
Now, day by day, Undine felt her affection grow for the fair maiden. "Certès, we must have known one another before," she was wont to say, "or else there must be some strange tie between us, for without some cause—some deep and secret cause—one loveth not another so dearly as I have loved you from the first moment of our meeting."
Nor could Bertalda herself deny but that she was drawn to Undine in sympathy and love, for all that she might hold herself aggrieved at so successful a rival. And so strong was this mutual affection that they both persuaded—the one her foster-parents, the other her husband—to postpone the day of departure from time to time: indeed, there was some talk that Bertalda should bear Undine company to the castle of Ringstetten, near the sources of the Danube.
Of this plan they spoke to one another one evening, as they walked by starlight in the public square of the imperial city, under the tall trees that encircle it. The young husband and wife had begged Bertalda to join them in their evening walk, and the three paced to and fro under the dark blue sky, now and again interrupting their talk to admire the magnificent fountain in the middle of the square, as its waters rushed and bubbled forth in strange beauty. Full happy and peaceful was the scene; glimmering lights from the neighbouring houses stole in upon them through the branches of the trees; a low murmur of children at play and folk who took pleasure in their walk, sounded in their ears; alone they seemed and yet not alone, in the midst of a bright, living world; the difficulties of the day smoothed themselves away; and the three friends could no longer understand what hindrance or objection there might be to Bertalda's visit to Ringstetten. Whereupon, as they were about to fix the day for their departure together, lo, a tall man, coming to them from the middle of the square, bowed with deep respect to the company, and said some words in the ear of the young wife. It irked her that she should be thus interrupted and by a stranger, but she went some steps aside with him and both began to whisper together, as it seemed, in a foreign tongue.
Now Huldbrand thought that he recognised the man, and stared so fixedly at him that he neither heard nor answered Bertalda's astonished questions. Of a sudden, Undine clapped her hands joyously and, laughing, left the stranger, while he, shaking his head, went away hastily as though ill-pleased, and vanished in the fountain. Then Huldbrand was certain that he was right; but Bertalda addressed herself to Undine.
"Tell me," quoth she, "what had the master of the fountain to say to thee?"
And Undine laughed to herself as she made reply. "The day after to-morrow, dear one, on thy birthday, shalt thou know all." No more would she say; but she asked Bertalda and, through her, her foster parents to dine with her husband and herself on the appointed day, and soon after they parted.
"Kühleborn, was it Kühleborn?" said Huldbrand, with a secret shudder, when they had taken leave of Bertalda, and were pacing homewards through the darkening streets.
"Ay, 'twas he," quoth Undine. "And he was minded to say many foolish things to me. But in the midst, and quite against his will, he gave me a most welcome piece of news. An thou wouldst wish to hear it forthwith, dear lord and husband, thou hast but to command, and I will tell it to thee with all my heart. But if thou wilt give a real pleasure to thy Undine, wait till the day after to-morrow and then thou too, wilt have a share in the surprise."
Full readily did the knight grant to her the boon that she had so sweetly asked; and as she fell asleep, she murmured to herself with a smile. "Dear, dear Bertalda!" quoth she. "How glad she will be, and how great will be her wonder at what the master of the fountain revealed to me!"