How They Journeyed from the City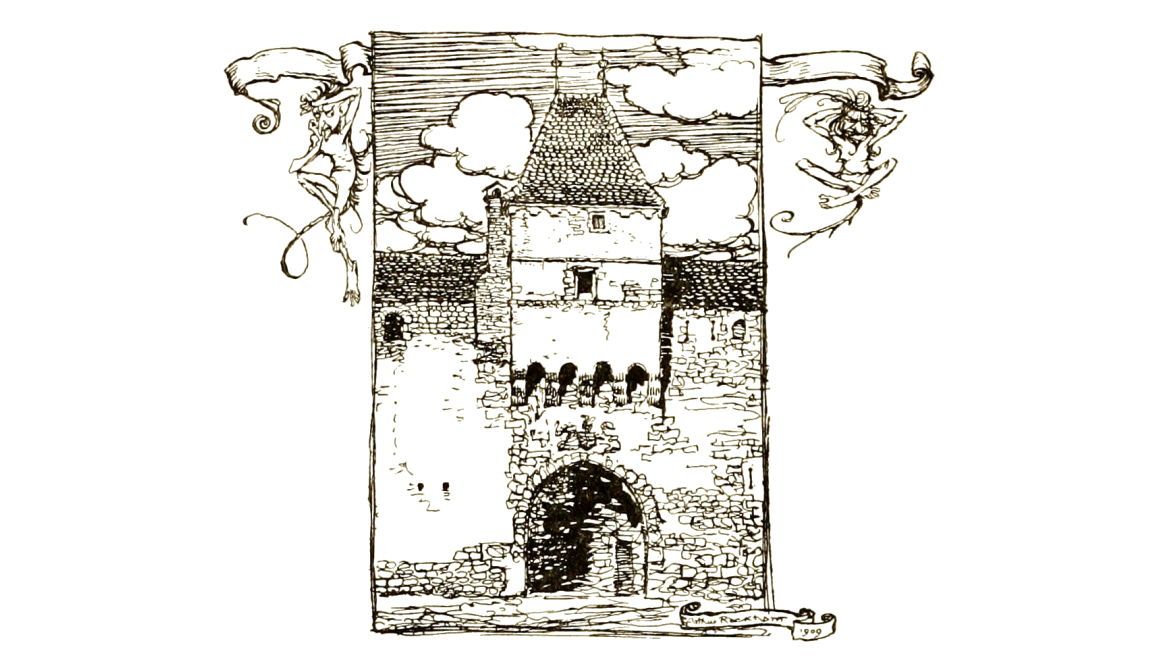 How They Journeyed from the City
N OW the lord of Ringstetten might well have been better pleased had the events of the day turned out otherwise; yet even so, it must needs content him that his wife should have been shown to be so good and sweet and kindly. "If a soul I have given her," he would say to himself, " 'tis indeed a better one than mine own." And forthwith his only thought was to speak comfortingly to the weeping Undine, and on the following morning to leave a city, which after such events, must have become distasteful to her. No one judged her with disfavour, it is true. From the first, something of strangeness and mystery was looked for in her, and the discovery of Bertalda's birth caused no great wonderment; moreover, every one who had heard the story and seen how distempered was Bertalda's behaviour, felt disgust at her alone. Of this, however, the knight and his lady knew nothing as yet. Praise or blame was alike painful to Undine, and there was therefore naught better to be done than leave the old walls of the city behind them with all possible speed.
At early dawn, a well-appointed carriage drove up to the entrance gate for Undine. Huldbrand's horses and those of his attendant squires were pawing the ground in the court. The knight was leading his wife from the door, when a fisher-girl crossed their way.
"We need not thy merchandise," said Huldbrand, "we are just leaving the city." Whereupon, as the fisher-girl began to weep bitterly, the husband and wife recognised that she was Bertalda. They went back with her at once to their apartments and learnt that the duke and duchess, bitterly displeased at her violence and ill-behaviour yesterday, had withdrawn their protection from her, albeit that they had given her a rich dowry. The fisherman, also, had been handsomely rewarded, and with his wife had already set out for their lonely home.
"I would fain have gone with them," she went on, "but the old man who is said to be my father——"
"He is truly thy father," Undine broke in. "Listen. The stranger who appeared to thee to be the master of the fountain told me the whole story, word for word. He wished to dissuade me from taking thee to Castle Ringstetten, and so the secret came out."
"Well, then," said Bertalda, "my father, if so it must be—my father refused to take me with him until such time as I might be changed in nature and dress. 'Adventure thyself alone through the haunted forest,' quoth he; 'that shall be the proof whether thou hast any regard for us or no. But come not as a lady; come as a fisher-girl.' Now I would do as he said, for I am forsaken by the whole world, and I will live and die alone with my poor parents as a poor fisher-girl. But I dread the forest. Hideous spectres dwell there and make me afraid. But there is no help for it. I came here but to implore pardon of the noble lady of Ringstetten for that I demeaned myself so unworthily yesterday. I know well, gentle lady, that you meant to do me a kindness; but you knew not how you would wound me, and in my distress and surprise, full many a rash and frantic word escaped my lips. Ah, forgive me, forgive me, I am so unhappy! Bethink thyself what I was yesterday morning—yesterday when your feast began—and what I am now!"
Her voice was choked with a burst of passionate tears, and Undine, who also wept full sore, fell on her neck. It was long before she could utter a word; at length she said:
"Truly thou canst go with us to Ringstetten," quoth she. "Everything shall be as before arranged. Only, I beg thee, do not call me 'noble lady.' Look you, we were exchanged as children—that made our destinies akin; and we will now so closely link our destinies together that no power of man shall be able to sever them. Only, first of all, come to Ringstetten; there can we discuss how to share everything as sisters." Bertalda raised her eyes timidly to Huldbrand. As for him, he pitied the beautiful girl in her distress, gave her his hand and begged her in all kindness to trust herself to him and his wife.
"We will send a message to your parents," quoth he, "to tell them why you have not come"; and he would have added further words about the good old couple, had he not seen that Bertalda shrank from the mention of their name. He therefore said no more.
Thereupon he helped her into the carriage; Undine followed; while he, mounting his horse and trotting gaily by their side, urged the coachman to drive with all convenient speed. Full soon they were beyond the confines of the imperial city and all its painful recollections, and the ladies could now begin to enjoy the beautiful country through which their road lay.
After a few days journey they came one exquisite evening to Castle Ringstetten. The knight had much business to transact with his steward and with his other retainers, so that Undine and Bertalda were left alone. Both went out on the ramparts of the fortress and were delighted with the fair landscape that spread far and wide before them through fertile Swabia. At that moment a tall man approached them, greeting them courteously, and it seemed to Bertalda that he bore a likeness to the master of the fountain in the city. Still stronger grew the resemblance, as Undine, indignantly and with threatening gesture, bade him begone, and he departed with hasty steps, shaking his head as before, and vanishing at last in a thicket close by. But Undine reassured her friend.
"Do not be afraid, dear Bertalda," she said, "this time that hateful master of the fountain shall do no harm." And then she told the whole story in detail—who she was herself, and how Bertalda had been taken away from the fisherman and his wife, and Undine brought to them instead. At first the girl was frightened, for she thought her friend to be seized with sudden madness. But soon she felt more and more convinced that all was true, because Undine's story held together so well, and suited so aptly past events. Moreover, truth is truth, and brings its own testimony. It seemed, indeed, strange to Bertalda that she should be living, as it were, in the midst of one of those fairy tales, to which formerly she had but lent an ear.
Full reverently did she gaze upon Undine, but always with a sense of dread that came between her and her friend. At their evening meal she could not help but marvel that the knight could bear himself with such tenderness and love towards a being who now, after all she had discovered, appeared to be a phantom rather than a human being.