Elisha, the Man of God
T HE days of Elijah the prophet were ended, but Elisha, his faithful servant, was ready to carry on his work. He knew that, as God had helped the master, so would He continue to help the servant.
Now it so happened that as Elisha travelled backwards and forwards on his way doing God's work, he came to a place called Shunem; and there, as he often passed a certain house, a kind-hearted, rich woman noticed him, saw how weary and footsore he looked, and invited him to come in and rest. Each time he came she had a meal prepared for him, and she wondered if he had any home, and if it might not be possible for her to do something more for him.
"Behold now, I perceive that this is an holy man of God, which passeth by us continually," she said to her husband. "Let us make a little chamber, I pray thee, on the wall; and let us set for him there a bed, and a table, and a stool, and a candlestick: and it shall be, when he cometh to us, that he shall turn in thither."
So the little room was all prepared and ready, with its bed and table and stool and candlestick, and the next time that Elisha passed by she not only fed him, but invited him to rest in the little room which was to be his very own.
The kindness of the woman touched Elisha's heart, and he made up his mind that he would show her how grateful he was. Was there anything she specially wanted? he asked. As God's prophet, he had a certain power in the country and at the king's court. But the woman only shook her head. She wanted no honours; she was quite happy and contented in her own home.
"What, then, is to be done for her?" he asked his servant.
The servant knew all about the household, and answered at once that there was one thing which the woman wanted with all her heart, and which she did not possess, and that was a child.
Then Elisha called for the woman, and when she came and stood at the door he told her that God Himself would reward her for her kindness by sending her a little son.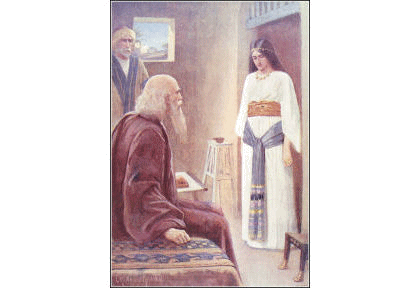 "Behold, thou hast been careful for us with all this care."
It had been a happy home before, but it was twice as happy when the baby came. He was the only child, and the joy of his mother's heart. His father, too, was very proud of him, and when the boy grew old enough he would take him out into the fields when he went to look after the workers.
But one harvest day, when his father had taken him out to watch the reapers cut the golden corn, the boy began to complain of the hot sun, which was beating down with such burning heat. "My head, my head!" he cried to his father.
"Carry him to his mother," said the master to one of his servants. His mother would put everything right.
But the poor mother could do nothing to make him well again. She could only hold him on her lap and try to soothe the pain and cool the little hot head, while she watched him grow worse and worse, until at mid-day he died.
In her bitter grief his mother thought of Elisha, the man of God. He had promised her that the little son should be given to her. He might help even now.
With tender, careful hands she laid her child upon Elisha's bed in the little room, and then set out to find the prophet.
She was still some way off when Elisha caught sight of her. The moment he saw her he was sure she was in some trouble; and he sent his servant to meet her and to ask, "Is it well with thee? is it well with thy husband? is it well with the child?"
And to all the questions the woman answered steadily, "It is well."
But when she came up to Elisha and looked into his kind face, she bowed her head in her bitter grief and knelt down at his feet. Why had this happened? she asked. She had not asked for a son; why should she have been given the joy only to suffer the greater pain?
Elisha understood at once, and at once was ready to help her. He gave his staff to his servant and bade him go on quickly ahead and lay it upon the child's face. But although this was done, yet there was no sign of life in the child.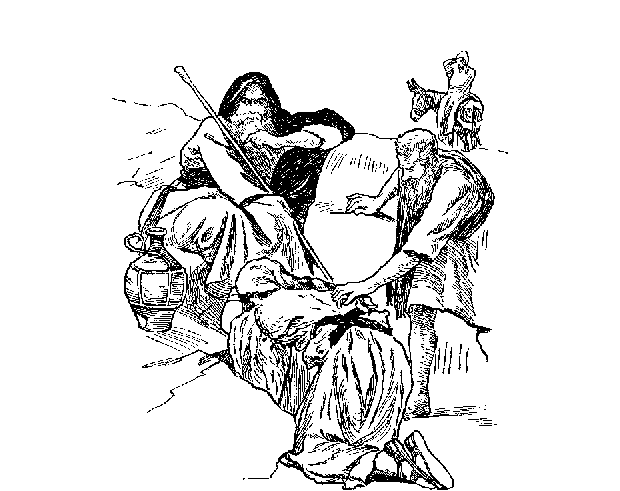 Elisha and the Shunammite
"The child is not awaked," said the servant when his master and the mother arrived.
Then Elisha went alone into the little room and prayed to God. And God heard his prayer. As he held the child close to him, he felt the cold little body grow warm, and then came the sound of faint breathing, and the child opened his eyes.
Outside the mother was waiting patiently, and her trust was rewarded. Elisha called to her and put the living child into her arms, and she knelt there at his feet, so full of joy and gratitude that she could not even thank him. She had been sure the man of God would help her, and she blessed the day when she had in the kindness of her heart made that little room ready to welcome the stranger, who had returned her kindness with good measure pressed down and overflowing.