St. Peter and the Angel
S T. PETER, the servant of Christ, lay in prison awaiting his execution, ready and willing to lay down his life in the cause of his King.
Many years had passed since that long ago day, when his brother had come to him and eagerly told him, "We have found the Christ," and he had first looked upon the beloved face of his Lord and Master. He had been a bold, active, young fisherman then, proud of his strength and his courage, and when the Master had called him to leave his nets and his boat, and to be instead "a fisher of men," he had thrown himself into the new work with all the energy and keenness he possessed.
Then came that dark, bitter time when the King had looked for courage in His bold follower, and had found cowardice—when St. Peter had deserted and denied his Lord. Could he ever forget how he had boastfully declared, "I will lay down my life for Thy sake," and how the sorrowful answer had come, "Wilt thou lay down thy life for my sake? Verily, verily, I say unto thee, the cock shall not crow till thou hast denied me thrice."
He had wept very bitterly when those words had come true, and the crowing of the cock had reminded him that he was a traitor and a coward. But no tears could wash away the remembrance of his Master's face when for a moment He turned and looked upon His cowardly servant.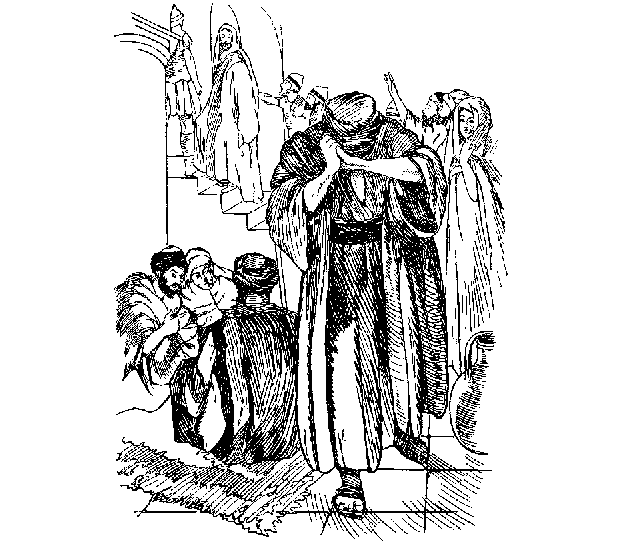 St. Peter's Denial
All his pride then had been crushed and humbled, all his courage lost; but one true thing remained—his love for his Master. It was this love that had helped to make him once more a trusted friend and follower of the King. After that Resurrection morning his Lord had come to him, and had three times asked him the question which was to wipe out all traces of his three denials.
"Lovest thou me?" asked Jesus.
"Lord, Thou knowest all things, Thou knowest that I love Thee," cried St. Peter. And then came the command, "Feed my sheep."
Ever since that day St. Peter had striven to do his Master's bidding. There had been no signs of cowardice now. He was the boldest of the followers of the King; and so it was that, when a great persecution of the Christians was begun, he was one of the first to be seized and flung into prison, with a special company of soldiers to guard him.
It was springtime, and soon all the earth would be decked with flowers, and new life would be waking everywhere. It was the time when, many years ago now, his Lord had risen, and made Easter day a day of triumph.
Now it had been decided that when Easter dawned the people should enjoy the pleasure of seeing one of the King's followers put to death, and St. Peter waited quietly in his dungeon for the morning to break.
All the Christians in their houses and secret meeting-places were praying for him. He was sure of this, and the thought comforted him; so he settled himself to sleep peacefully between his soldier guards, to whom he was bound by two strong chains. Outside in the starlight more soldiers were keeping watch, but in the prison all was dark.
Then, all of a sudden, the darkness vanished, and a light shone clear and bright. It was neither starlight nor the glow of dawn, but an angel stood there in shining robes, and the dungeon was filled with a glorious radiance.
"Arise up quickly," sounded a voice in St. Peter's ear, as the angel bent over him and roused him from his sleep. St. Peter struggled to obey, forgetting his chains; but as the strong hand of the angel helped him to rise, the chains slipped from his hands and left him free.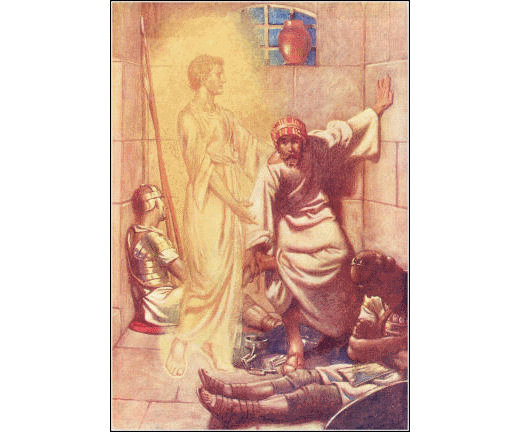 "Behold, the angel of the Lord came upon him, and a light shined in the prison."
Again the angel spoke, and bade him clothe himself and put his sandals upon his feet and wind his cloak around him. All this St. Peter did without questioning. He was sure all this was only a dream or a vision. Presently he would awake, to find himself chained as usual to the sleeping guards.
But again the voice sounded, "Follow me," and St. Peter followed the shining messenger through the prison door and past the soldiers who kept guard outside. Every door silently opened to let them pass. Not a soldier challenged them; and when at last they came to the iron gate which led into the city, that too swung back to let them through. Into the city streets they went—streets which St. Peter knew well—and suddenly he found himself alone, with no guiding light and no angel companion.
It was not a dream. The cool night air blew upon his cheek, the stars were quietly shining overhead, and he knew every house of the street in which he stood. Then the truth flashed upon him. God had sent His angel to deliver him, and he was free. The people were baulked of their prey, and the Easter dawn would bring him life, not death.
There had been no sleep for St. Peter's friends that night. In a house close by they were still praying and watching for the dawn, when a knock sounded at the door of the gate, and a young maid, called Rhoda, went hastily to see who was there. In those terrible times a knock might mean some fresh terror. The maid would not open the door until she knew who it was who knocked, and she listened intently to the voice which answered her from without.
It was a voice she knew, she was quite sure of it. Overjoyed and full of wonder, she did not stop to open the gate, but ran swiftly back to tell the others. The very man they were praying for was standing there, knocking at the door, she declared.
"Thou art mad," they answered her almost roughly. This was no time for idle imaginations. But there was no doubt she believed what she said. There was a ring of absolute certainty in her voice, and at last some of them began to think that perhaps it was St. Peter's spirit which had stood there.
But the knocking still sounded on the door. Could a spirit knock so loudly? At least it was wiser to open the door and see who was there. And so at last the gate was cautiously opened, and St. Peter stood before them.
The cries of surprise and delight were checked almost as soon as uttered. There was much need still for caution, and St. Peter held up his hand to command silence. Then, in breathless hush, they led him in, and he told them the story of his deliverance, and how at the angel's touch the chains had fallen from his hands, and the bolts and bars had slipped back.
So for a time St. Peter was still free to carry on his Master's work. But the end, when it came, was as welcome to him as the shining angel had been, for this time it was through the gates of death that he passed into the presence of the King.
We cannot be quite sure by what death the old fisherman saint glorified his Master, but people think that it was at Rome that he gave up his life. An old story tells us that St. Peter was fleeing away from that city to escape death, when, on the great road leading to Rome, he met his Master walking wearily towards the city, carrying a cross upon His back.
"Master, whither goest Thou?" asked St. Peter.
"I go to Rome to be crucified in thy place," answered the King.
Then St. Peter knew that he had done wrong in leaving his post of duty at which God had put him, and he turned back bravely to meet his death.
It was the same death as that Master had suffered; only, to the humble, loving soul of His servant, it seemed too great an honour to die as his Master had done, and he begged that he might be crucified head downwards, to mark the difference between himself and his King.