Joseph, the Ruler
II
I T was a dreadful thing to be sold for a slave, and Joseph might well have become sullen and hopeless in the strange land of Egypt to which the merchantmen took him. But instead of being sorry for himself and thinking only of the unkindness and wickedness of his brothers, he made the best of everything, and set himself to do his new work as well as possible. If he was a slave he would be a thoroughly good slave.
So it was that his first master, Potiphar, soon found that this fair-haired, good-looking Hebrew boy was one to be trusted; and as time went on, he not only gave him his freedom, but made him the chief servant of his household. Then, just when happy days dawned again for Joseph, the sunshine was once more overshadowed. His master's wife accused him of doing wrong, and declared he was thoroughly bad; and so all his well-deserved favours were taken from him, and he was put in prison.
Even in prison, however, Joseph's quiet goodness and his wise ways made him a favourite with every one. He was the friend of all the prisoners, and ere long became the governor's right hand. Still it was weary work to be shut up in prison, and he longed with all his heart for freedom and a chance to win a place for himself in the great world. He knew that Pharaoh, the King of Egypt, was not unfriendly to strangers. If only he could reach his ear all might be well.
At last the chance came. There were two of Pharaoh's servants in the prison, one the king's cupbearer, and the other his chief baker, and both these men were sorely troubled one night because of the dreams they had dreamt. There surely was a meaning in these dreams, but who could explain them?
Now Joseph had thought a great deal about dreams, and so he listened to these men, and told them what it seemed to him their dreams must mean. The chief baker's dream was a sad one. He had dreamt of three baskets, which he carried on his head, baskets filled with the king's food, but the birds had come and eaten up all the food. The three baskets were three days, said Joseph, and in three days the baker would be hanged and the birds would eat his flesh. But the cupbearer's dream was a happy one, for he had seen a vine which bore three clusters of grapes, which he had pressed out into the king's cup and presented to Pharaoh. The three clusters of grapes were three days, said Joseph, and in three days' time the cupbearer would be once more free and hand the king his golden cup.
"But think of me when it shall be well with thee," added Joseph to the cupbearer wistfully, "and show kindness, I pray thee, unto me, and make mention of me unto Pharaoh, and bring me out of this house: for indeed I was stolen away out of the land of the Hebrews: and here also have I done nothing that they should put me into the dungeon."
In three days all that Joseph had said came true. The chief baker was hanged, and the chief butler was set free and stood once more before the king. Only, he quite forgot the man who had been so kind to him in prison, and for two years never once thought of Joseph.
But at last something happened which reminded him. Once again it was a dream, but this time the dreamer was Pharaoh, the great king. He had sent for all the cleverest men in the land to explain his dreams to him, but no one could find a meaning for them. Then the cupbearer suddenly remembered Joseph, and came and told the king all that had happened when he was in prison. Surely it would be worth while to try this man. So Pharaoh sent and brought Joseph out of prison, and asked him if it was true that he could tell the meaning of dreams.
There was no pride or boastfulness in Joseph's answer. Of himself, he said, he could do nothing, but with God's help he would tell the king all that he could.
So Pharaoh told his dreams, and as Joseph listened he knew at once that they had been sent as a warning from God. Seven years of good harvests and plenty of food were coming, and after that seven years of famine when, if all the food of the good years was eaten up, the people would starve. The warning dreams had been sent so that the corn should be saved up and stored; and it would be a good plan, said Joseph, to find the very wisest and best man in all the land who would undertake to do this.
Pharaoh listened thoughtfully, and soon made up his mind. He felt at once that Joseph was a man to be trusted.
"Forasmuch as God hath showed thee all this," he said, "there is none so discreet and wise as thou art: thou shalt be over my house, and according unto thy word shall all my people be ruled: only in the throne will I be greater than thou."
It was a great chance for Joseph, one day a poor unknown prisoner and the next the greatest man except the king in all the land of Egypt. But although his outside life was changed, he himself remained just the same. He was as keen as ever on doing his best, as brave and fearless in serving God and the king, as wise in ruling as he had been in serving.
So, when the years of famine came there were great stores of corn laid up to feed the Egyptians; and not only the people of Egypt, but strangers from other lands, came to Joseph the Ruler to buy food.
Then it was that one day ten tired, travel-stained men arrived at the city, saying they had come from the far-distant land of Canaan to buy corn for their wives and families, who were starving. Joseph knew them at once. They were his ten brothers—those brothers whom he had last seen when, as a helpless young boy, he had knelt and begged them for mercy. Now they came kneeling to the great ruler, little dreaming that this powerful prince was the young brother they had betrayed and sold.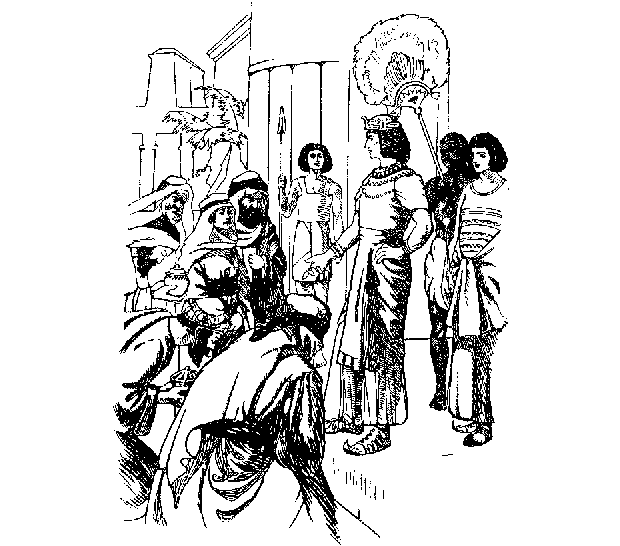 Joseph and His Brothers
And Joseph did not mean to tell them just yet. He pretended to take them for spies, and spoke roughly to them.
"Thy servants are no spies," the brothers answered humbly. "We are the sons of one man in the land of Canaan; and, behold, the youngest is this day with our father, and one is not."
Even then Joseph pretended that he did not believe them. No, they must first prove their words by bringing their youngest brother to him. They might leave one of their number behind as a hostage, and take corn for their families and return to fetch their brother. For Joseph longed to see Benjamin again, the little brother whom he had so dearly loved.
At first Jacob would not hear of letting the boy go. He remembered Joseph's sad fate, and refused to trust Benjamin to his brothers. But presently, when all the corn was eaten up, and it seemed as if they must all die of hunger, he agreed that there was nothing else to do but to allow Benjamin to go down to Egypt and buy more corn from the great ruler.
Then Joseph could pretend no longer. The sight of Benjamin awoke all the old love in his heart, and he was obliged to turn away his head lest his brothers should see that his eyes were full of tears. Afterwards he sent every one away, and when he was alone with his brothers he told them who he was.
There was no fear of famine for them now. Nothing in all the land was too good for the brothers of the great ruler, and ere long there were wagons and camels on their way to Canaan to fetch Jacob, the old father, and all the wives and little ones belonging to the ten brothers. They would all now share in Joseph's good fortune.
So Jacob's sorrow was turned into joy when the news was brought to him that Joseph was alive, and governor over all the land of Egypt.
It sounded almost like a magic tale, and Jacob could not believe it at first; but joy gave him strength to endure the long journey. And there at the end Joseph stood waiting to welcome him—Joseph, the great ruler, held in such honour in that land; Joseph, the man whose word was law, and who was clad in rich robes, and lived in princely state. But in Jacob's eyes he was still just the little lad who, in his gay coat of many colours, had tended the sheep in the home fields and been the light of his father's eyes.