The Two Brothers, Jacob and Esau
I T had indeed been a shining road of happiness which Rebekah had trod since she had left her far distant home to become the wife of Isaac, and perhaps the greatest happiness of all had come when her twin babies were born, and they told her that God had sent her two little sons.
Now, although the babies were twins they were not in the least alike, and the older they grew the more different they became. Esau, the elder, was a big strong boy, fond of working in the open air, a keen hunter, loving all kinds of out-of-door sports. He was rough-looking, too, beside his smooth-faced, gentle brother Jacob, who was a thoughtful, quiet boy, quite content to do indoor work, and caring very little for rough games or the excitement of hunting.
It was Jacob who was his mother's favourite. She had always loved him best. It displeased her to think that Esau with his rough ways and rough looks was to be lord of all, was to have his father's blessing as well as the birthright, and that Jacob, her quiet, beautiful boy, should have nothing. There was always an echo in her heart of God's words, "the elder shall serve the younger."
But if his mother loved Jacob best, it was on Esau that all his father's hopes and love were fixed. Isaac delighted in the wild adventures and strength of his hunter son. He loved the strong hairy hands which were so skilful in the use of weapons, and the rough looks of his son only filled him with pride. When Esau entered he brought with him the wild fragrance of the woods and hills which clung even to his clothes, and it rejoiced his father's heart.
In many ways it was Jacob who was the cleverer of the two boys; but it was this very cleverness which sometimes led him into crooked ways and taught him to take a mean advantage of his brother. So one day, when Esau had been out hunting and came home hungry and faint, Jacob offered him food, a dish of red pottage cooked and ready, if for it he would give up his birthright. Esau was too hungry and too careless to think what that meant. He did not indeed deserve the birthright if he was willing to give it away so easily. But he only thought how hungry he was, and that he might die if he did not have food, and so Jacob's crooked plan was successful.
Now, although Jacob had managed to get the birthright, there was something else he wanted, something which his mother, too, thought of day and night. Whichever of the two sons received their father's blessing he it was who would be master of all, who would inherit all the good things, and carry on the family name. It was of this blessing that Jacob and his mother thought continually, and at last the time came when it must be decided once for all.
Isaac had grown very old and knew he had not much longer to live, and he called Esau, his beloved elder son, and told him to go out hunting and to prepare some venison for him, the special dish which he loved.
"Make me savoury meat, such as I love," he said, "that my soul may bless thee before I die."
Rebekah, listening at the tent door, knew what that meant. She watched Esau set out to do his father's bidding, and then she called quickly to Jacob. There was not a moment to be lost. He must go at once to the flock that was feeding in the field close by, and bring her two kids. She would make of them the savoury meat, and he would then take the dish to his father and pretend that he was Esau. The poor old father was almost blind now; he would not be able to tell the difference.
But Jacob hesitated. He did not think it was a safe plan. Suppose that his father should touch him and feel his smooth skin. Why, he would know at once that it was not Esau.
"Go and do as I tell thee," said his mother. He might leave it all to her; she had planned everything. And after cooking the food, she took the hairy skins of the kids and put them on Jacob's hands and on his neck; and she dressed him, too, in some of his brother's clothes. Then she sent him in quickly to his father, with the smoking dish of savoury meat in his hands.
The blind old father could not see who it was, he could only stretch out groping hands to feel if this was really his son Esau. Somehow he had an uneasy idea that the voice did not sound like Esau's voice.
"Come near, I pray thee, that I may feel thee, my son," he said, "whether thou be my very son Esau or not."
Those groping hands felt carefully over Jacob's hairy neck and hands. Yes, it must be Esau, but he would make quite sure.
"Art thou my very son Esau?" he asked.
And Jacob answered, "I am."
The food was eaten, and again Isaac called his son to come near to him, and as Jacob bent down to kiss him the old man smelt the sweet earthy fragrance of Esau's borrowed clothes. That smell was a delight to him, and he blessed his son with a wonderful blessing.
"See, the smell of my son is as the smell of a field which the Lord hath blessed," he began, "therefore God give thee of the dew of heaven and the fatness of the earth."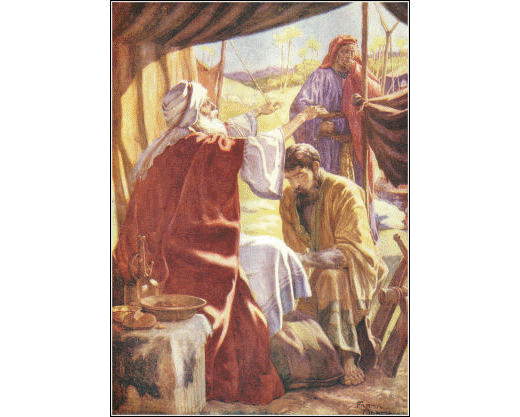 "So he blessed him."
Jacob was to be lord of all. The blessing was his now, and no one could take it away. He had only been just in time; the blessing was scarcely ended, and he had only just left the tent, when Esau came hurrying in.
Then the trick was discovered.
"Thy brother hath come with subtilty and taken away thy blessing," said Isaac, trembling with grief. And when he heard that, there burst from Esau an exceeding bitter cry.
Surely that cry must have hurt his mother's heart, surely Jacob must have hated his own mean ways when he heard that terrible cry of grief.
Already his crooked ways were bringing their punishment. He dared not stay any longer in his home, but must flee away into a distant land, to his mother's people, where he would be safe from Esau's anger.
Alone in the desert, with only a stone for his pillow, he dreamed that God's angels came down the golden stairs of heaven to bring him a message of comfort; but there was little comfort for one who was banished from home, and who knew that he deserved his punishment. He repented sorely now, and God forgave him and allowed him to enjoy the blessing; but all his life he suffered for his deceit, and paid in sorrow for the evil he had done.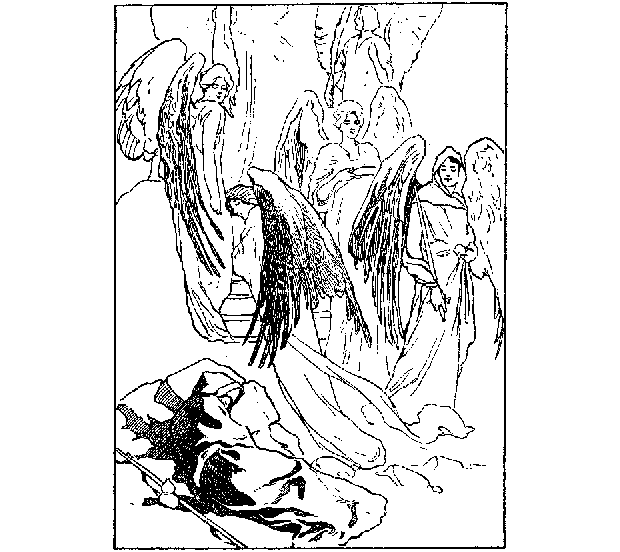 Jacob's Dream