A Roundabout Turn  by Robert H. Charles
A Roundabout Turn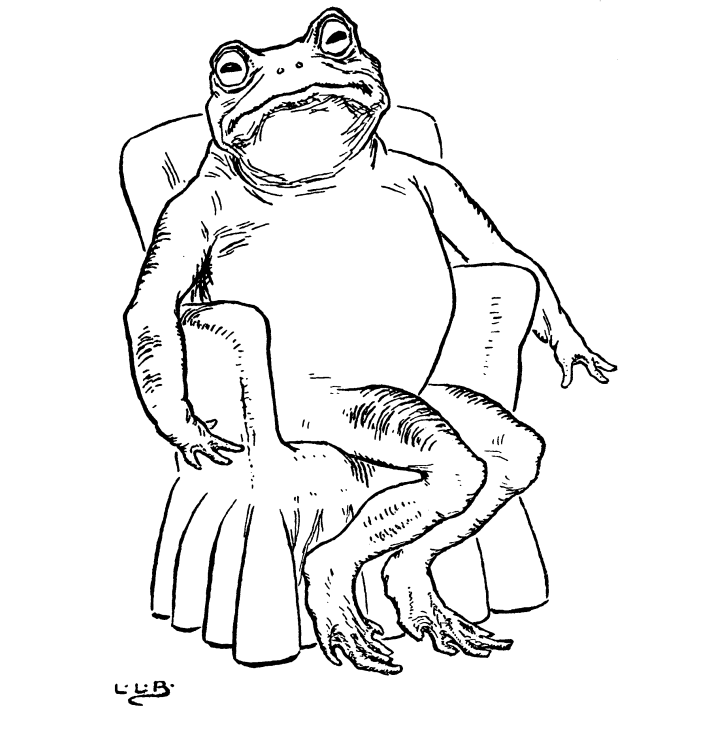 A Toad that lived on Albury Heath
Wanted to see the World.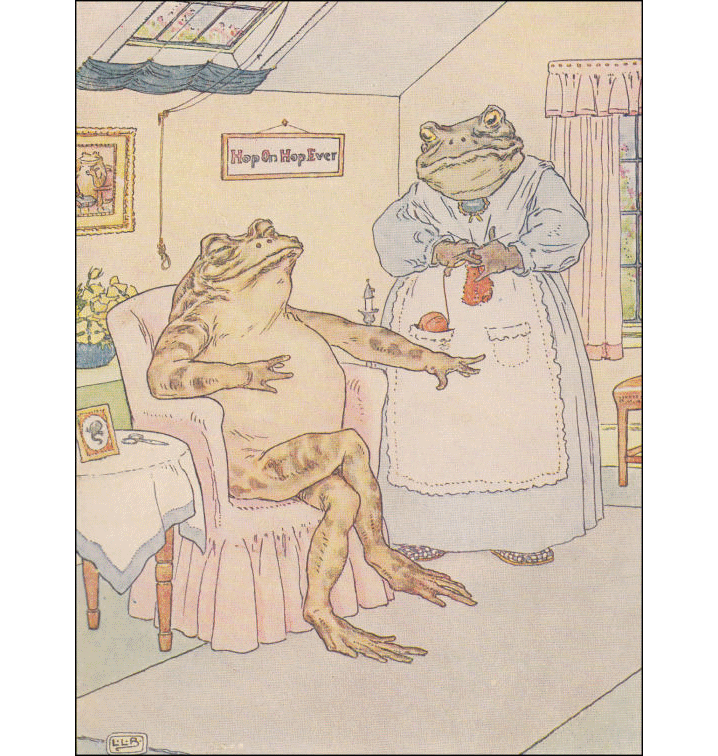 "It isn't that I dislike the Heath,
It's a perfectly charming Heath, of course—"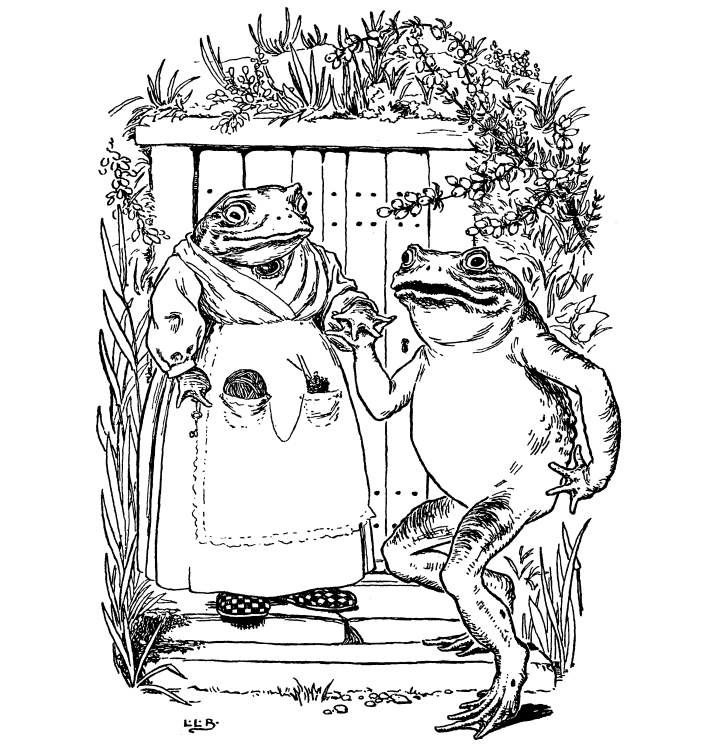 "All this heather, and all this gorse,
All this bracken to walk beneath,
With its feathery fronds to the sky uncurled—
It's as jolly a Heath as ever was found."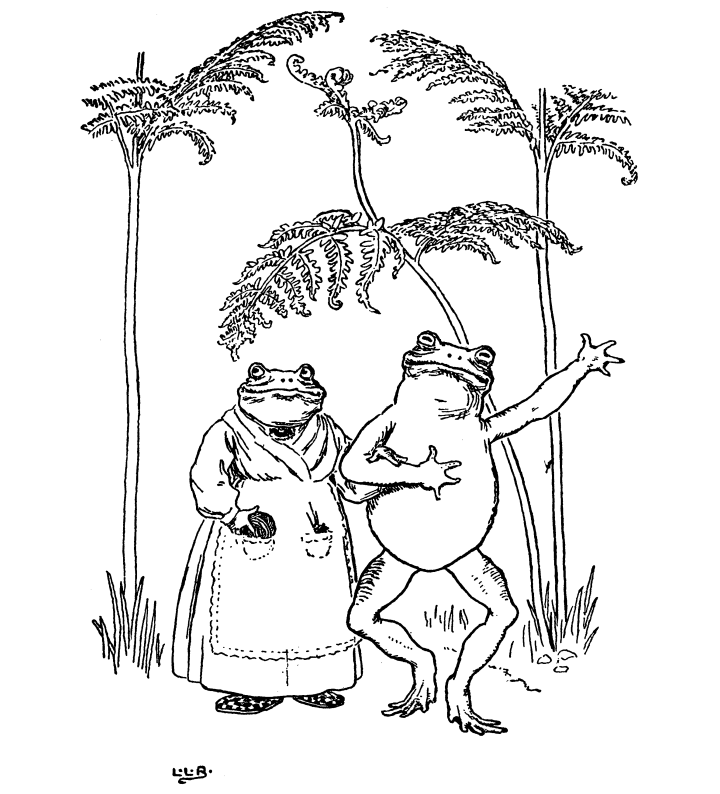 "But it's flat, and the World, they say, is round.
Yes, fancy," he said, "it's round, they tell me,
And wouldn't I like to go and see!"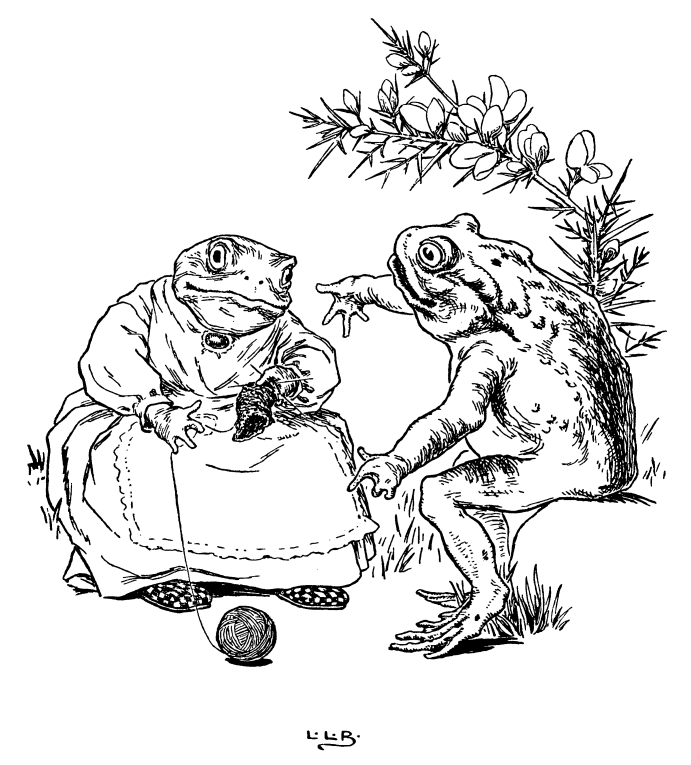 "But there, it's a long way down the road
For a fellow that walks as slow as a Toad."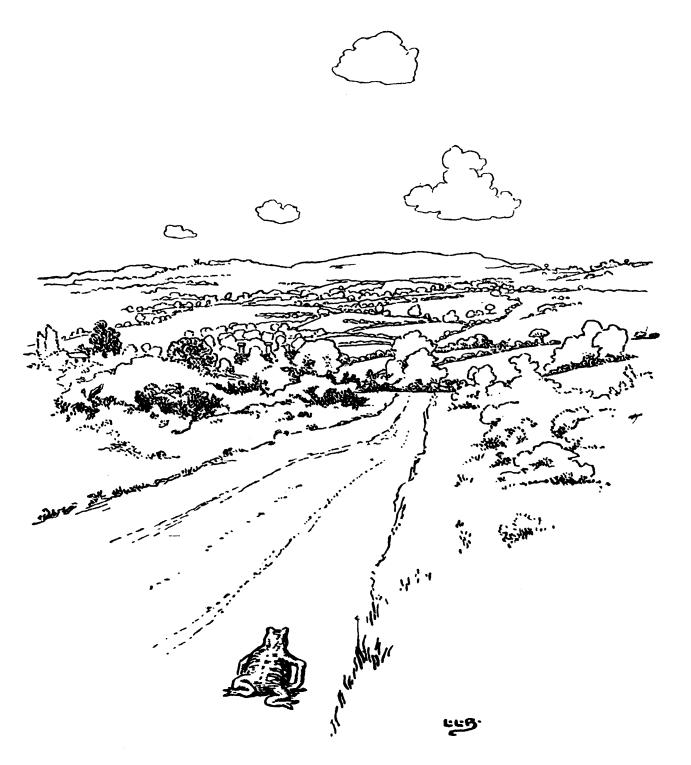 "If I had a horse, I'd go," said he,
"If only I had a horse!
Who's got a horse," he cried, "to sell me?"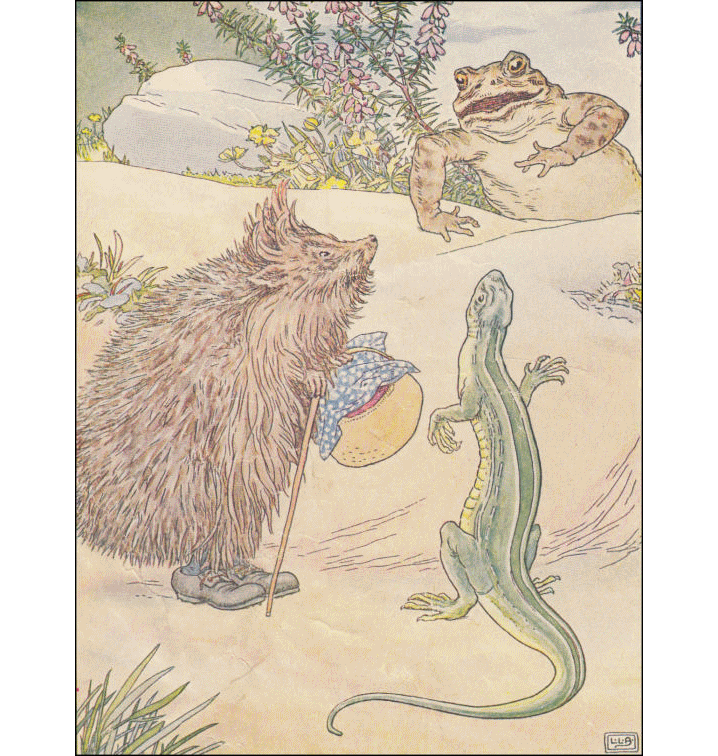 Well, nobody had, you see.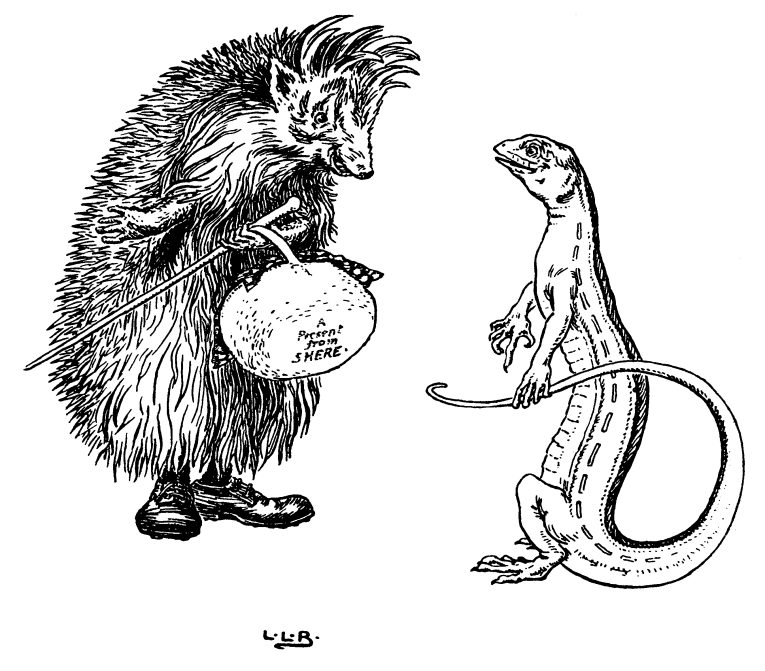 But horses came to the Heath one day,
Mettlesome steeds in brave array,
With prancing legs and staring eyes,
And crimson saddles that fall and rise
As round the galloping squadron flies,
And tents, and swings and cokernut shies,
And a hoop-la stall with many a prize,
And races, and a band, and cheering.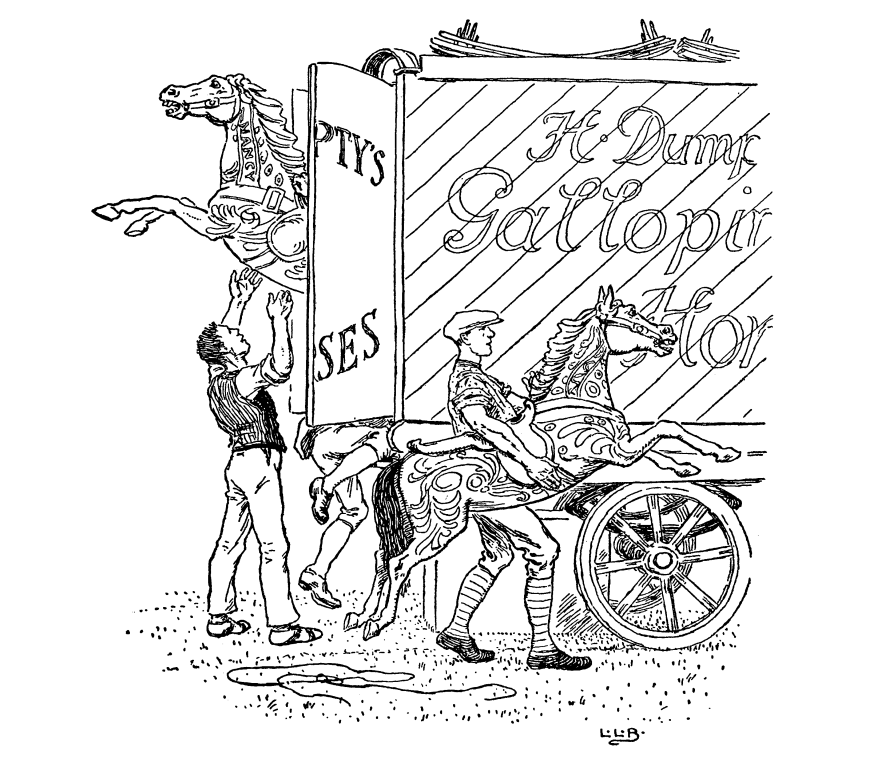 "Hark!" said the Toad, "what's this I'm hearing?
It must be the World arrived, by the sound;
"Now I'll see if it's really round!"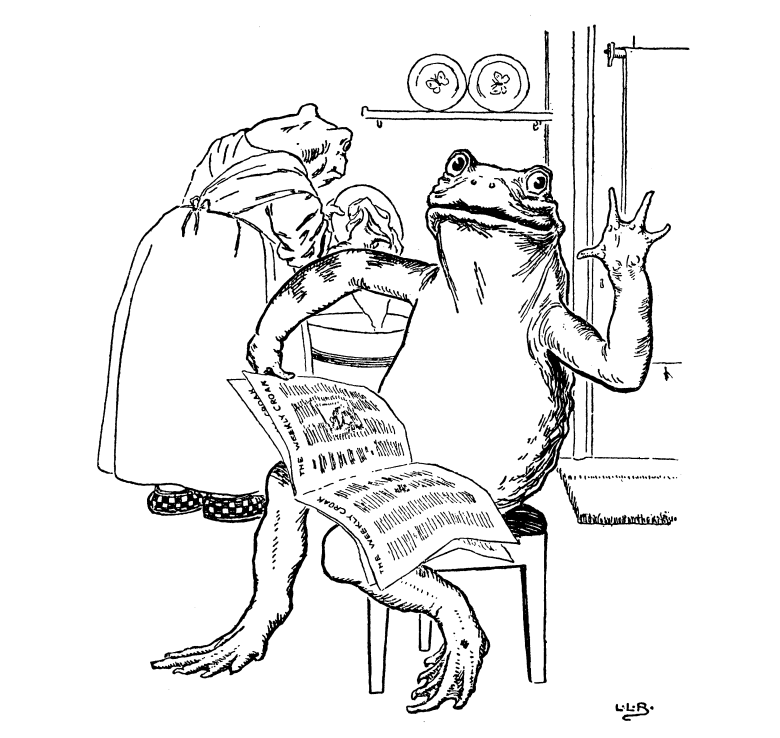 Off he crawled to the thick of things,
And the crowds made crawling rather tiring.
"Dear me!" he said, "I wish I'd wings!
If this is the World," said he, perspiring,
"It's inconveniently full of Feet."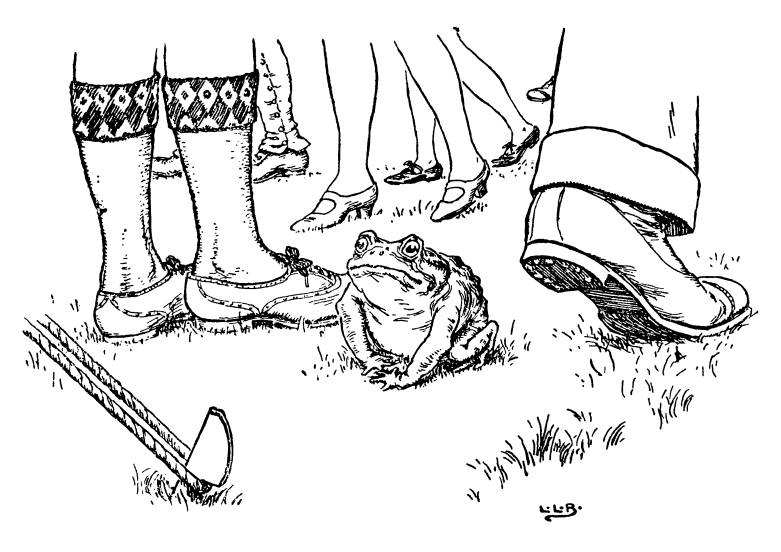 When a sudden voice said, "Look—how sweet!
Mummy, a toad! Let's give him a treat."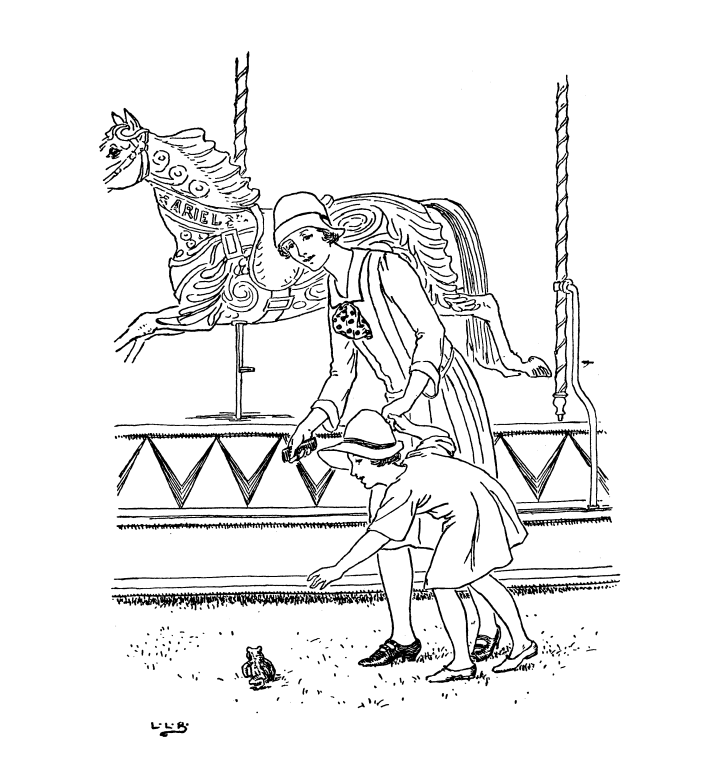 "It's not very safe for him here on the ground,
So I'll put him up—"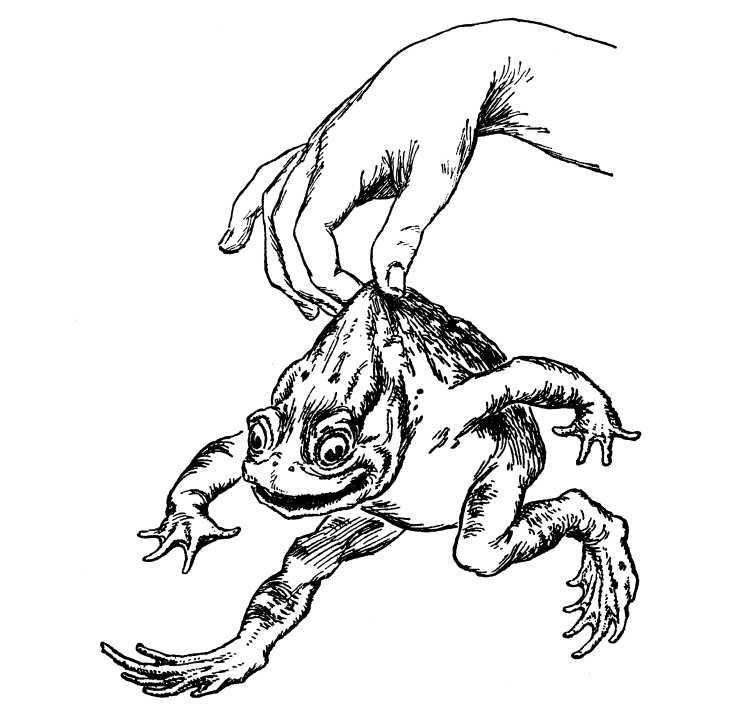 "—on the merry-go-round!"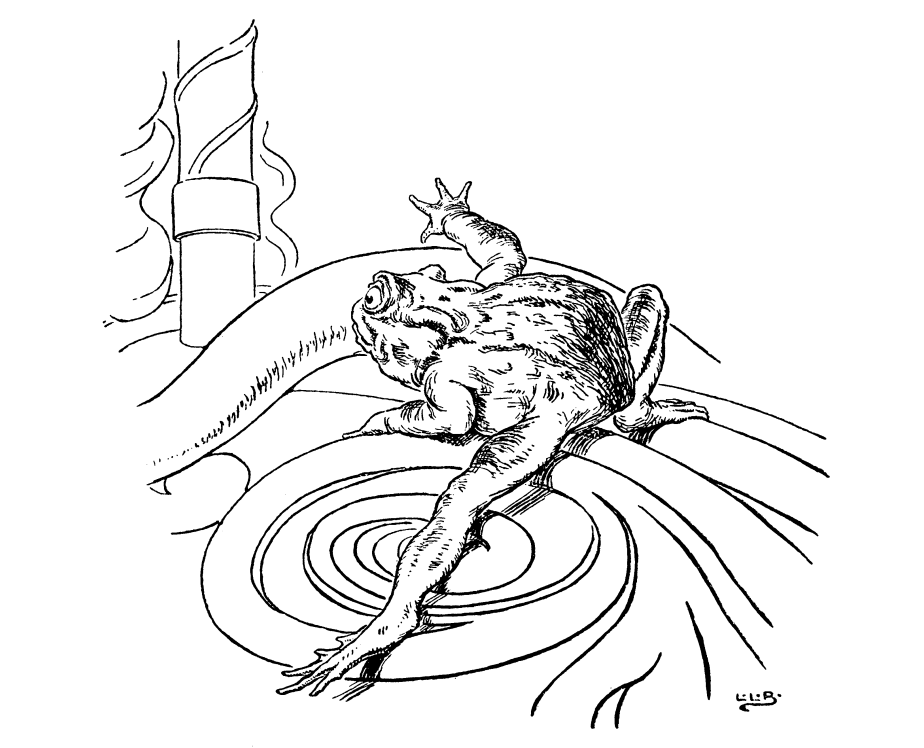 And before the Toad could answer, the floor began to slide,
The horses started prancing, and the riders settled to ride,
And they all moved faster, and the band began to play,
And away round he went with them, away and away and away.
Hooray! . . . . .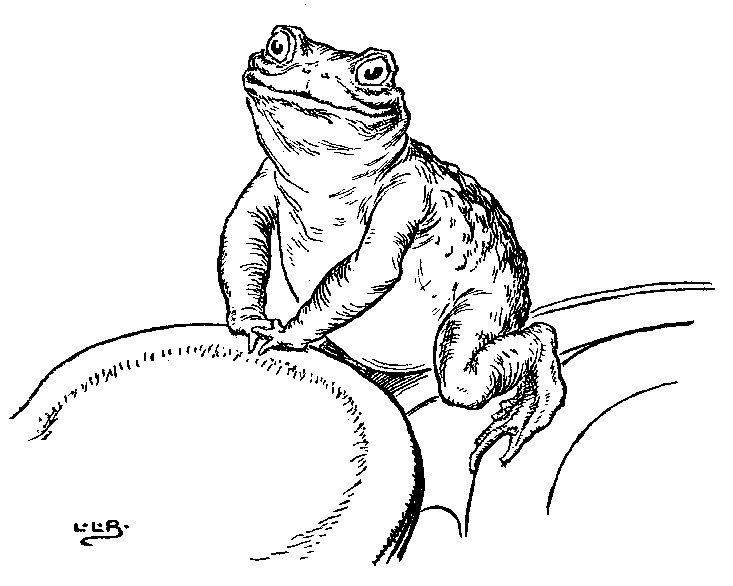 So the Toad rode the Roundabout
Round and round and round;
No one minded him, he sat without a sound;
He rather liked the movement, he rather liked the tune,
He just rode the Roundabout
All the afternoon.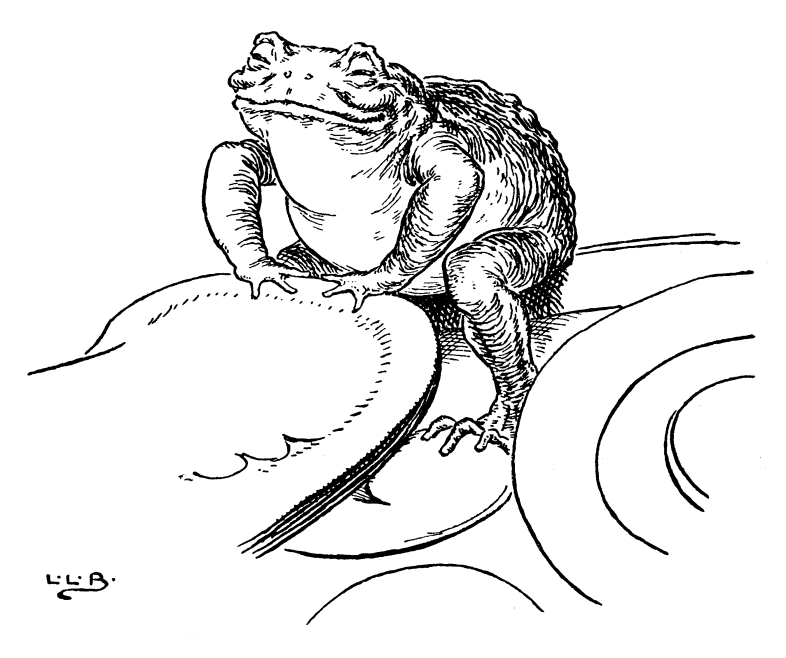 When the time to pay came,
What did he do?
"Tuppence a ride! Tuppence a ride! How much for you?"
Some had ridden for one ride, some had ridden for two—
"Seventy-nine,"  the Toad cried;
The boy said, "Coo!"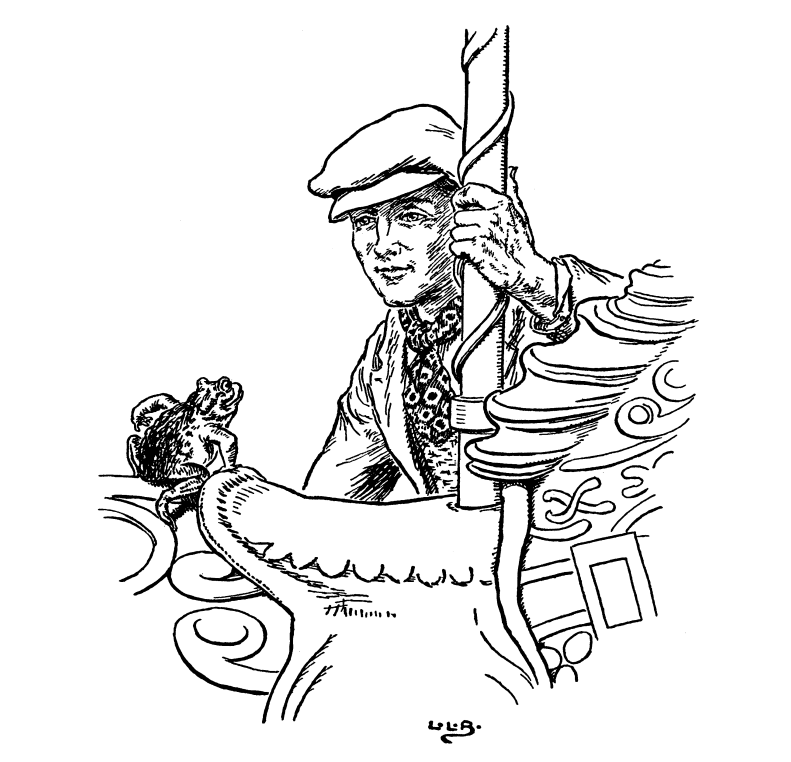 "But never you mind," the Toad replied,
"Here's an I.O.U."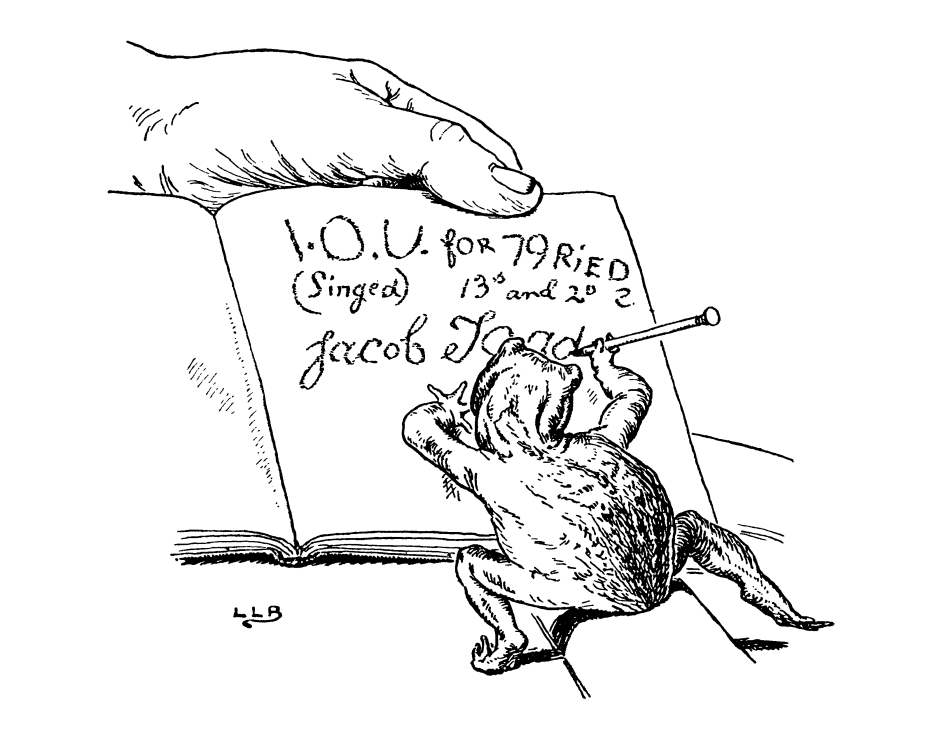 "And now," he said, "I'll go, thanks.
I want to get home to tea."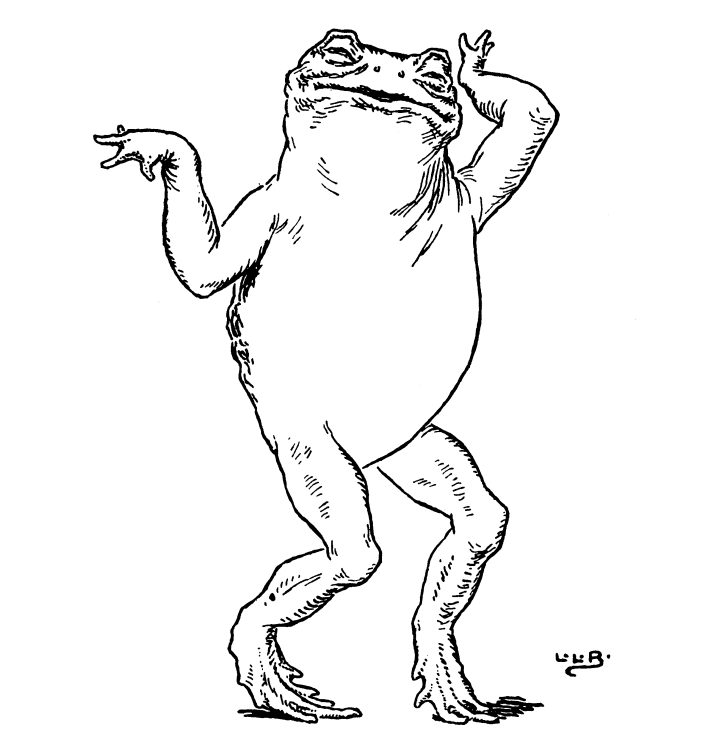 "Another for nothing? No,  thanks,
Not  any more for me!"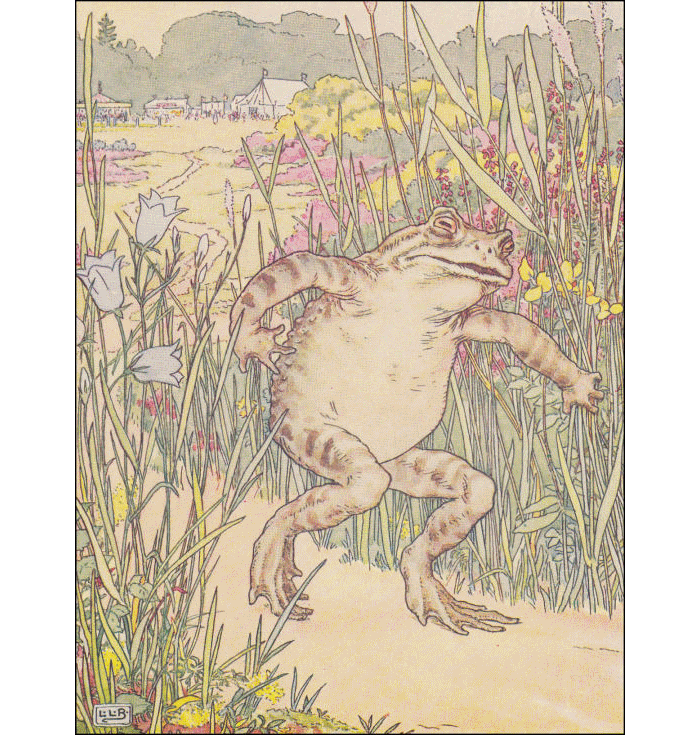 Home, holding the grasses,
Crawling a crooked road,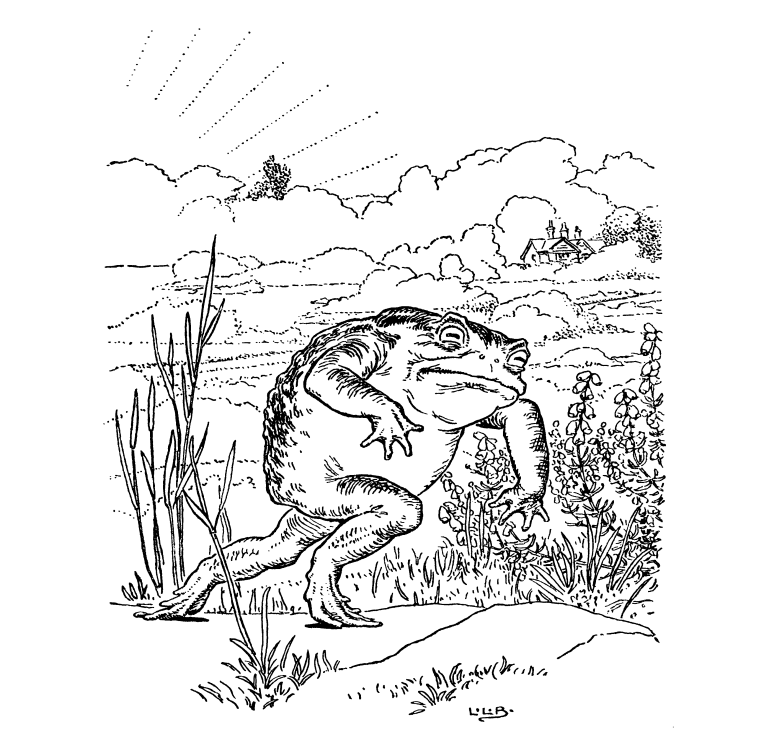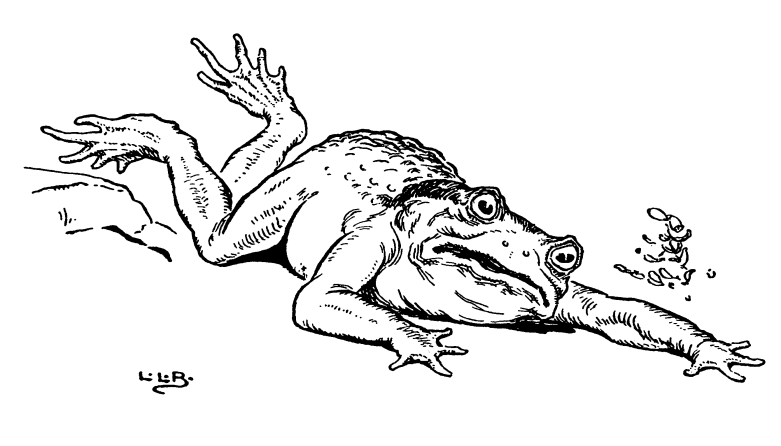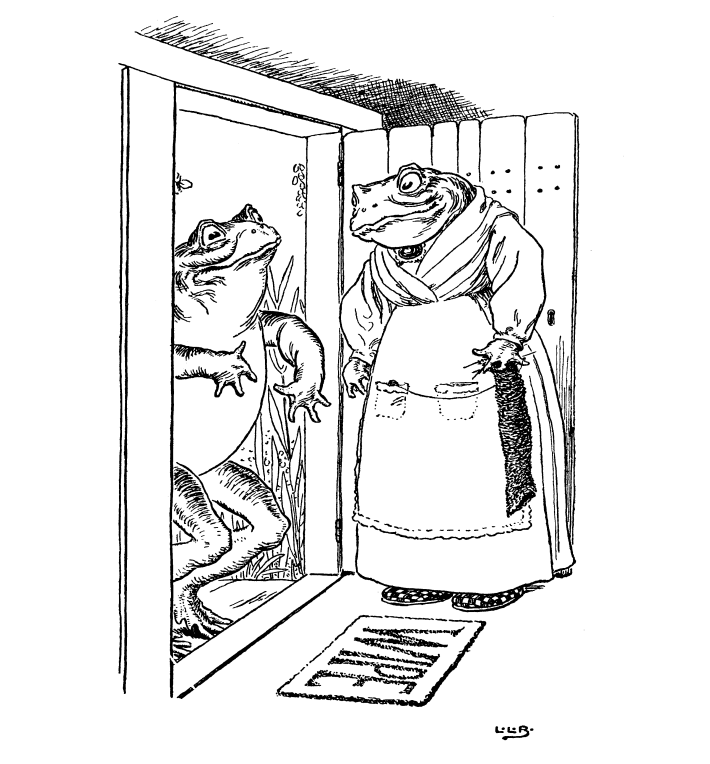 "Well, and what have you found, dear?
And what have you seen and heard?"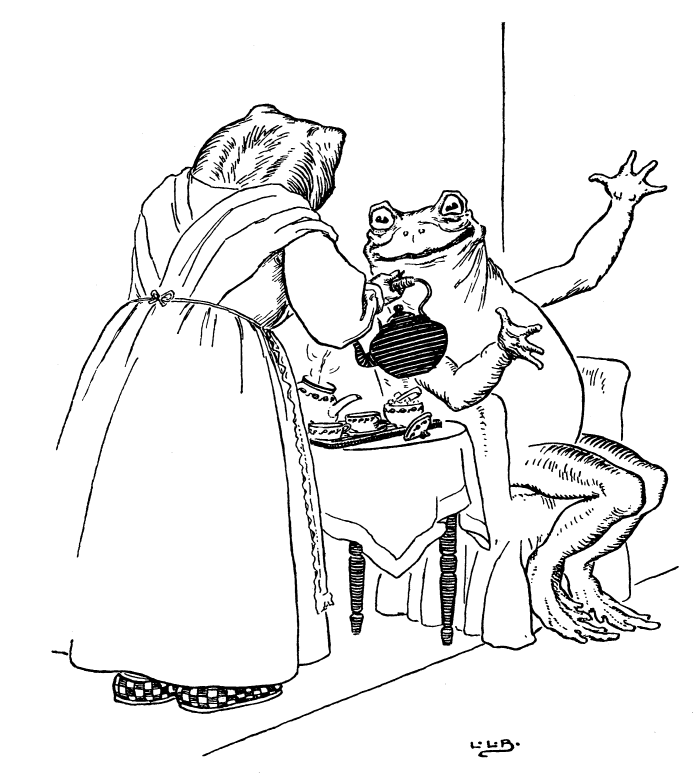 "Is the World really round, dear?"
"Round?"  he said, "My word!
Round?"  said he; "you should feel it spin!
Roundest place I ever was in!—
Round?" he chuckled, "it's that!
But it's rather," he said with a knowing wink—
"It's rather a giddy  place, I think."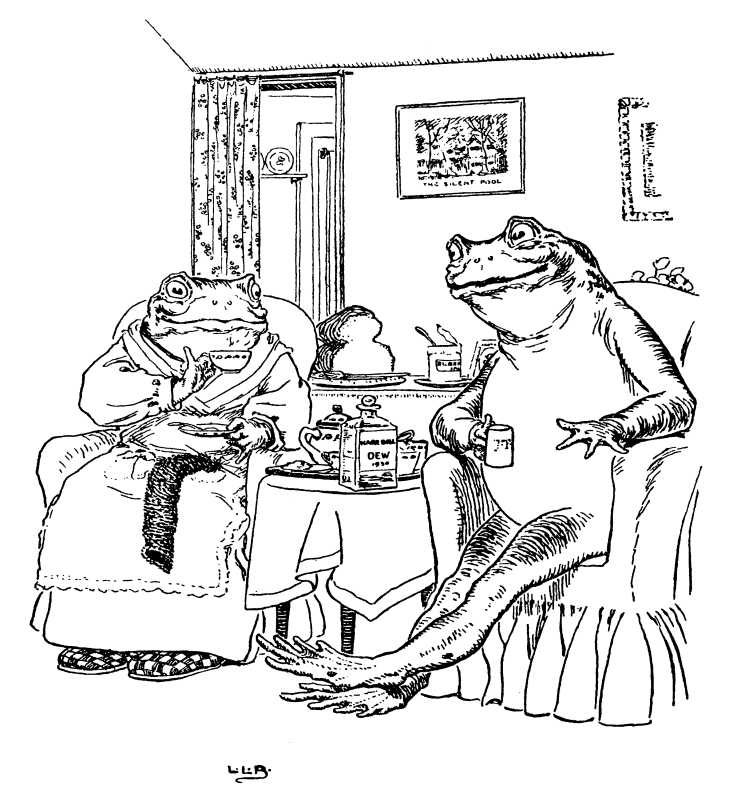 "Give me a drop of the dew to drink,
And give me the Heath;
it's flat!"