How Columbus Discovered America
About two hundred years before Columbus sailed, there arrived in the city of Venice [ven'-is] one day three travelers, coarsely dressed in Chinese fashion. They said that they were three gentlemen named Polo, who had left Venice many years before. They had almost forgotten how to speak Italian, and at first their own relatives thought them foreigners and impostors. But they gave a magnificent banquet at which they all appeared in rich robes. They changed their garments again and again as the feast went on. Every robe taken off was cut up and given to the servants. At last they took their old garments and ripped them open, and poured out before the guests a collection of precious stones of untold value.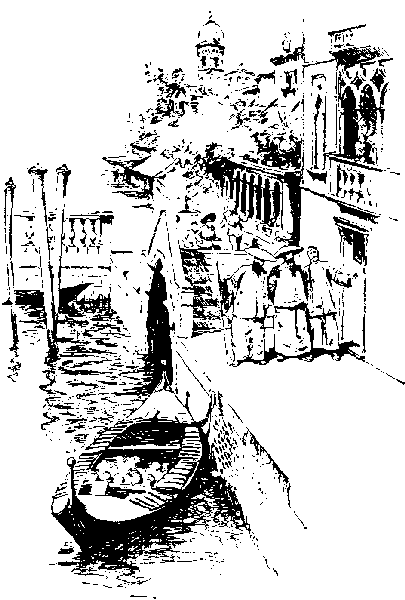 One of these gentlemen, Marco Polo, whose portrait you see here, wrote a book of his travels, describing the vast riches of Eastern countries, before unknown to people in Europe. Columbus had read this book, and it was to find a new way to reach the rich countries seen by Polo that he was now resolved to sail partly round the globe.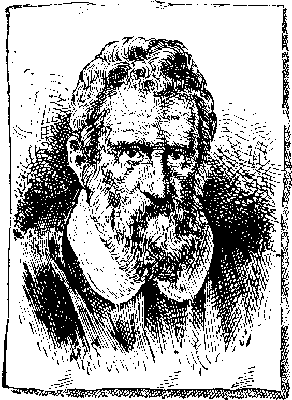 In spite of the power which the King of Spain gave him to force ships and seamen to go with him, Columbus found the greatest trouble in fitting out his expedition, so much were the sailors afraid of the ocean. But at last all was ready. Those who were to sail into "The Sea of Darkness" with Columbus took the sacrament and bade a solemn farewell to their friends, feeling much like men condemned to death. They embarked in three little vessels, only one of which had a deck over it.
Columbus went to the Canary Islands first. Then with bitter lamentations the men took leave of the last known land, and sailed into seas in which no ship had ever been. Columbus tried to cheer them with the stories he had read in Marco Polo's book, of the riches of the great country of China. But he also deceived them by keeping two separate accounts of his sailing. In the one which he showed to his companions he made the distance from Spain much less than it really was.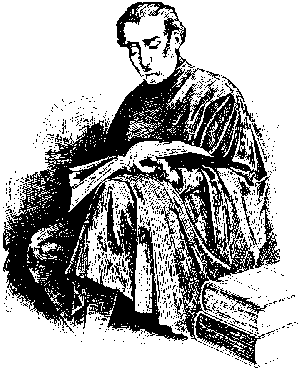 Columbus Reading Polo's Book
But they were greatly alarmed to find that, as they went west, the needle of the compass did not point directly to the north star. This change, though well known now, was probably as surprising to Columbus as to his men, but he did his best to keep up their courage.
The weather was fine, and the winds blew always from the east. This alarmed the sailors more than ever, for they were sure they would get no wind to come back with. One day the wind came around to the southwest, which was a great encouragement.
But presently the ships struck great masses of seaweed, and all was grumbling and lamentation again. The frightened sailors remembered old stories of a frozen ocean, and imagined that this must be the very place. When the wind fell to a calm, they thought the ships might lie there and rot for want of wind to fill the sails.
They were getting farther and farther away from Europe. Where would they find food and water to last them till they got home? They thought their commander a crack-brained fool, who would go on to their destruction. They planned, therefore, to throw him into the sea, and go back. They could say that, while he was gazing at the stars, after his fashion, he had tumbled over.
But the worst disappointments were to come. One day the glad cry of "Land!" was raised. Columbus fell on his knees to return thanks, while the men scrambled up into the rigging. But it proved to be only a cloud. On the 7th of October another false alarm disheartened the sailors more than ever.
From the first Columbus had pointed to seaweed, and other supposed signs of land, until the men would no longer listen to his hopeful words. Now the appearance of some song birds, a heron, and a duck, could not comfort them. The great enterprise was about to end in failure, after all, when, on the 11th of October, the sailors found a branch of a thorn-tree with berries on it. At length a carved stick was found, and the men began to believe that they were really near to some inhabited land.
During the night which followed this discovery no one on the ships slept. About ten o'clock Columbus saw a glimmering light appearing and disappearing, as though someone on shore were carrying a torch. At two o'clock a sailor sighted land.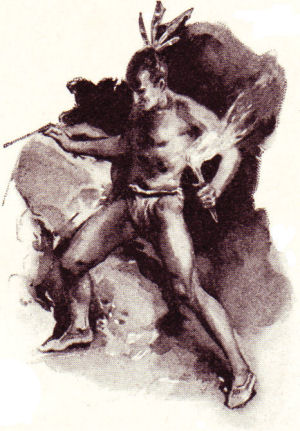 The morning light of Friday, October 12, 1492, showed the Spaniards a beautiful little island. Columbus dressed himself in scarlet, and planted the Spanish standard on the shore, throwing himself on the earth and kissing it, while the naked Indians wondered whether these men in bright armor had flown from the skies in their winged boats or had sailed down upon the clouds. The sailors, lately so ready to cast Columbus into the sea, now crowded about him, embracing him and kissing his hands.
When the Indians had recovered from their first surprise, they visited the ships, some of them in canoes, and others by swimming. They brought with them a ball of cotton yarn, bread made from roots, and some tame parrots, which, with a few golden ornaments, they exchanged for caps, glass beads, tiny bells, and other trifles, with which they could adorn themselves.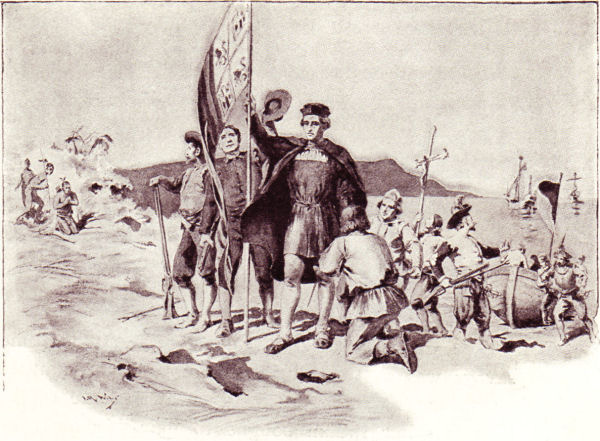 The island which Columbus first discovered was a small one, which he called San Salvador, but we do not now know which of the West India Islands it was. He thought that he was on the coast of Asia. But where were the rich islands and great cities and houses roofed with gold, of which Marco Polo had written two hundred years before?
From island to island Columbus sailed, looking for these things, not knowing that they were thousands of miles away. Finding the island of Cuba very large, he concluded that it was a part of the mainland of Asia.