Another Thanksgiving Day
Governor Winthrop gave voice to his relief and pleasure by ordering, even before the Lyon had come to anchor, that the fast which had been appointed for the next Thursday should be a day of thanksgiving instead, and so we made it, with prayers all the more fervent because of our stomachs being well filled, and the fear of dying by starvation being put behind us.
The ship was loaded with such things as wheat, peas, oatmeal, pickled beef and pork, cheese and butter, and, with what my mother declared was of the greatest value, lemon juice, which is said to be a remedy for those who are suffering with scurvy.
It was not allowed that those who had money should buy plentifully of this cargo; but it was paid for by the town authorities, and divided equally among us all.
When the day for thanksgiving came, my mother allowed me to have an unusually hearty breakfast, for, she said, there was so much for which to be thankful, and so many who would be present to give thanks, that no one could say when we might be able to have dinner.
It was well she was thus thoughtful, for one of the preachers who came over with us, Master Wilson, preached, while Governor Winthrop treated us to a lecture, and Master Phillips was so blessed with the spirit that he prayed a full hour.
Susan and I feared we would have yet more preaching, for on the ship Lyon had come a young man whom my father said was gifted, and Susan's father believed he would make his influence felt among us. It was Master Roger Williams, and I am ashamed to say that I sat in fear and trembling lest Governor Winthrop should call upon him for a sermon, after we had already had much the same as two; but, fortunately, so it seemed to me, Master Williams did not raise his voice during the service.
It was near to night before we were done with giving thanks, and then at each home was held a feast.
During Governor Winthrop's lecture on this thanksgiving day, he urged that all the people, children as well as grown folks, should take this time of famine as a lesson, reminding us that it would not be a long while before we could hope to reap a harvest, and in the meantime there was very much of labor to be performed.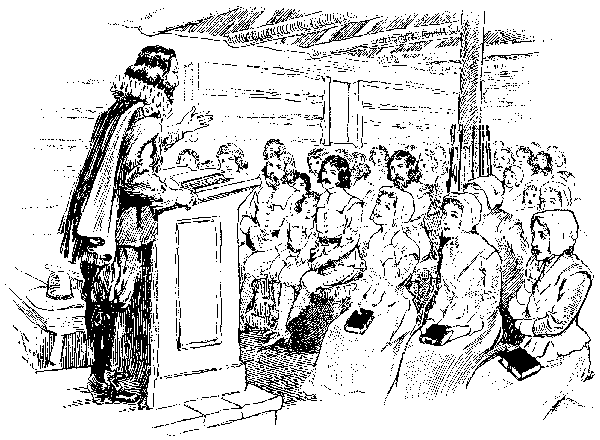 He declared that even with the cargo of the Lyon, we had not enough to satisfy our wants until crops could be gathered; but it was certain other ships would come to Boston during the summer, with more stores. Yet because of its being possible we might come to a time of suffering again, so must we be careful that not the smallest grain of wheat be wasted.