Other Schools
To me it was a great relief when dame schools were established, and by this term I mean schools that were taught by women.
Some of our more tender-hearted people believed Master Pormont's methods were too harsh for the younger children; therefore, after he had kept school one year, Mistress Sowerby, who was the widow of Master Sowerby who had been assistant in the church at Yarmouth, in England, was hired at the wage of six pounds a year to teach the girls and the smaller boys.
She did not appear to think it necessary that young ladies should know so very much concerning Latin grammar, or arithmetic; but rather spent her time showing us how to spin tow strings, or to knit hose or stockings.
Because of the school's having been set up in her own home, we could learn how to cook, and to weave, and to knit, not only for our own use, but to sell, and any kind of knitting work done well was in great demand. When I could do herring- bone, or fox-and-geese patterns, working them, moreover, into mittens or stockings, I felt exceeding proud.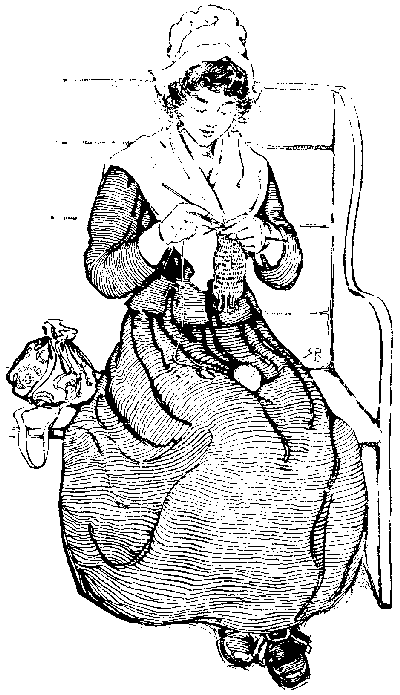 Indeed, we had among us one girl who knit into a single pair of mittens, the alphabet and a verse of poetry in four lines.
Mistress Sowerby was most careful in teaching us the use of the quill, for she claimed that the young girl or young women, who could make easy, flowing letters, need not consider herself ignorant, even though she failed in arithmetic, or was unable to spell correctly the words she set down.
It seemed to Susan and me as if the people of Boston were taking great pride in the teaching of their children, when we learned that four hundred pounds had been set aside from the money of the town with which to set up a college, near those plantations which we had come to call the New Town.
We girls were more than disappointed, however, when told that only lads would be allowed to enter this college, and then not until having gained a certain amount of knowledge elsewhere; but yet it was a matter in which we could take pride, that there should be such a school formed when only six years had passed since we began to build the town of Boston.