The Starvation Time
It was as if the ship Lyon, on whose return a few weeks before we had counted so hopefully, was gone, never to come back.
Even the children watched the direction of the winds, saying on this day that it was a favoring one if the Lyon were on her course for Boston, and on the morrow mourning because of the breeze being against her.
Yet she came not, nor did we hear aught concerning her, or any other from the world beyond us.
We were alone in what was much the same as a wilderness, and all those around upon whom we had counted to aid us in time of distress were in nearly the same dismal straits as were we.
Even the Indians declared that they were hard pressed for something to eat, and more than once did they come in twos or in threes to beg from us who were starving, something that could be eaten.
Susan and I, as we sat clasped in each other's arms hungry, and pining for the home over-seas which we had left, came to fancy that the famine which held possession of the land was like unto some terrible monster who hung above us as a cloud, settling slowly but surely day after day, until the hour would come when his terrible fangs would be securely fastened upon us.
During the month of January the deaths through scurvy, if that indeed were the cause, grew less; but all believed that in the stead of being removed by disease, our people were slowly perishing from starvation.
All the food in Boston was brought together, and portioned out, so that no one, whether he had of money, or was penniless, should suffer more than another. And yet again and again in the night have I been awakened by the gnawing of hunger in my stomach.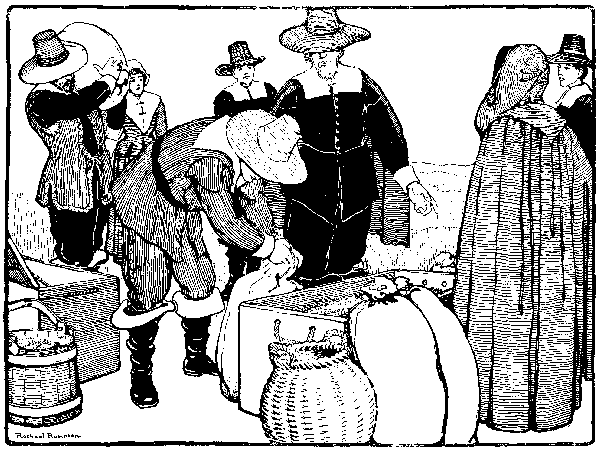 With the beginning of January, Governor Winthrop appointed a day on which we should all fast and pray, as if indeed we had been doing other than fasting throughout the long, dreary winter. On this day every man, woman, and child in Boston town was to spend his or her time in praying to the Lord to deliver us from our affliction.
We no longer hoped for the coming of the Lyon. Surely she must have been destroyed by the tempest, otherwise had we seen her before this, for nearly five months had gone by since she left Salem Harbor.