Chickatabut
It was not regarding the Indians, or free willers, as indentured servants are called, that I intended to write when I began. That which I counted to say was, that when the spring had come, after the arrival of the Lyon, and we were free for the time being from fears of a famine, the Indian by the name of Chickatabut came to see Governor Winthrop, having been invited to the end that he might sell us, who are here in Boston, this piece of land on which we are building our town.
You must know that he is quite the most important savage roundabout here, and father believes, as does Governor Winthrop, that if he sells us the land, it will be a lawful bargain, because of his standing, as I have said, at the head of all these brown people nearabout.
Now it so chanced that he was the first savage of note I had seen, and really he was something grand to look upon. He had feathers on his head, like unto a crown, and from this drooped a long trail of feathers reaching to the ground, while his leggings and doublet of tanned deer skin were covered with beads, worked in fanciful patterns, together with the claws of beasts. His arrows were carried across his back, in a covering embroidered with the quills of the porcupine painted in various colors, and he held his bow in his hand.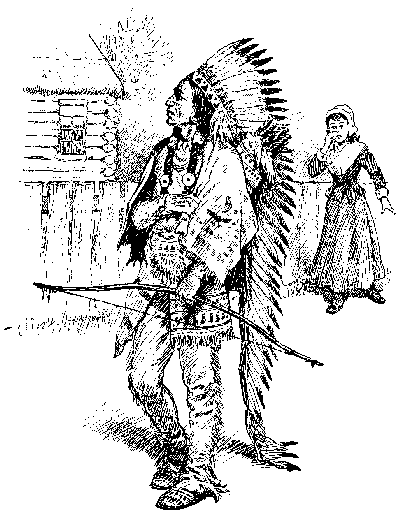 I cannot set down as I would, exactly how he was dressed, because, having come upon him suddenly while on my way to Susan's house, of being startled by so much of adornment that I was like to have run away.
He came, as I have said, to visit Governor Winthrop, and father declares that he sat at the table as a white man would have done, save that instead of using the knife and spoon, he took up food with his fingers. Mother thinks that the Governor must have been relieved indeed when his guest departed, for no one insists so strictly upon proper table manners as does Master Winthrop.
It must have been that Chickatabut was pleased with his visit, for two or three days after having gone back to his people, he sent the Governor as much Indian corn as would fill a hogshead, and, in return for the gift, Master Winthrop presented him with a suit of clothing made in English fashion by a tailor.
Father says that now indeed do we own all the land this side of the neck, for Master Blackstone, who had a farm here, as I have already said, sold it to our people before we moved over from Charlestown, and now with Chickatabut's selling of the same, there should be no question as to who has a lawful claim upon it.