An Indian Guest and Other Visitors

An Indian Guest and Other Visitors
Both Susan and I had gazed about us eagerly when we went on shore, hoping to see a savage. We were not bent on meeting him near at hand, where he might do us a mischief; but had the desire that a brown man might go past at a distance, and we were grievously disappointed at coming aboard the ship again without having seen one.
Therefore it is that you can well fancy how surprised and delighted we were next morning when, on going on deck just after breakfast to have another look at this new town, whom should we see walking to and fro on the quarter-deck with Master Winthrop, as if he had been one of the first gentlemen of the land, but a real Indian!
There were the feathers, of which we had heard, encircling his head and ending in a long train behind. His skin was brown, or, perhaps, more the color of dulled copper. He wore a mantle of fur, with the skin tanned soft as cloth, and that which father said was deer hide cunningly treated until it was like to flannel, had been fashioned into a garment which answered in the stead of a doublet.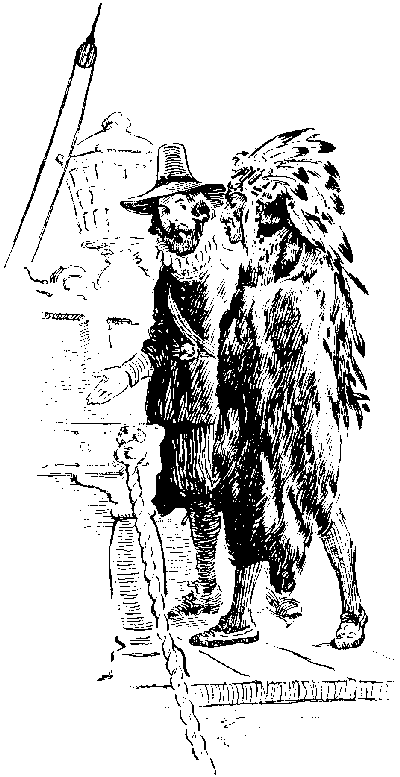 I cannot describe his appearance better than by saying it would not have surprised me, had I been told that one of our own people had painted and dressed himself in this fanciful fashion to take part in some revel, for truly, save in regard to the color of his skin, he was not unlike the gentlemen who were on the ship.
As Susan and I learned later, he was the king, or chief man, among those Indians who called themselves Agawams. Father said he was the sagamore, which, as I understand it, means that he was at the head of his people, and his name was Masconomo.
A very kindly savage was he, and in no wise blood- thirsty looking as I had expected. He was a friend of Master Endicott as well as of all those who lived with him in this town of Salem, and had come to welcome our people to the new world, which, as it seemed to both Susan and me, was very thoughtful in one who was nothing less than a heathen.
The Indian sagamore stayed on board the ship all day, and our company, together with the people of Salem, were as careful to make him welcome as if he had been King James himself.
The reason for this, as father afterward explained to me, was because of its being of great importance that we make friends with the savages, else the time might come when they would set about taking our lives, being in far greater numbers than the white men.
Neither Susan nor I could believe that there was any danger that these people with brown skins would ever want to do us harm. Surely they must be pleased, we thought, at knowing we were willing to live among them, and, besides, if all the savages were as mild looking as this Masconomo, they would never be wicked enough to commit the awful crime of murder.
In the evening, after the Indian went ashore, the good people of Salem came on board in great numbers, and, seeing that it was a time when he might do good to their souls, Master Winthrop gathered us on deck, where he talked in a godly strain not less than an hour and a half.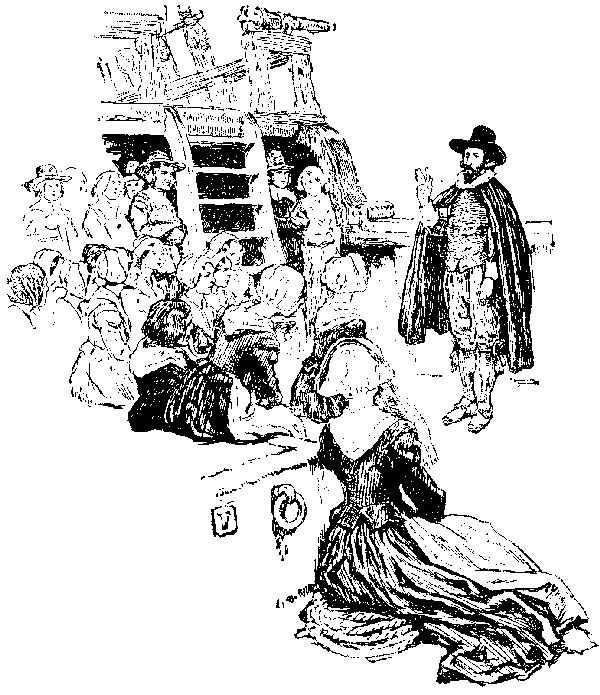 It was indeed wicked of Susan to say that she would have been better pleased had we been allowed to chat with the people concerning this new land, rather than listen to Master Winthrop, who, so mother says, is a most gifted preacher even though that is not his calling, yet way down in the bottom of my heart I felt much as did Susan, although, fortunately, I was not tempted to give words to the thought.