Moving the Town
I have no doubt, because of mother's having said so again and again, that the good Lord heard our fervent entreaties, although the sickness was not removed from among us for near to six weeks.
Then it was that Master William Blackstone came across from Trimountain, and told Governor Winthrop it was his belief we should do more toward aiding ourselves than simply praying. He advised, because of there being plenty of good water in Trimountain, that we forsake this village of Charlestown, and go across to the opposite shore.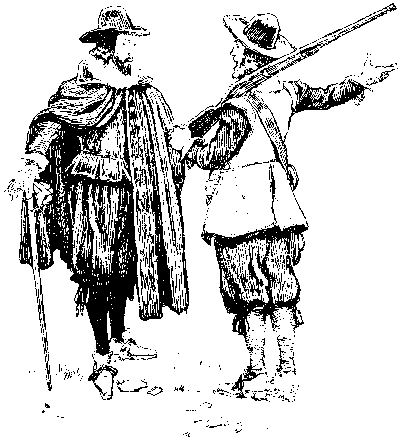 I might set down many words, repeating what I heard our fathers say concerning the wisdom of such a move, and yet this story which I am telling would not be improved thereby, for the day finally came when it was decided that, even at the cost of building new dwellings, we should take all our belongings across the water to the cove, back of which was a small hill, and, yet further behind, a circle of mountains.
The cove would make an agreeable harbor for our boats; the hill straight behind it would serve as a location for a fort, while here and there were pleasant streams, or gushing springs, whereas in Charlestown we had only the water of the river, or from the marsh.
That I may not weary you by much explaining, it is best I say that on the seventeenth of September, when the sun had risen, we gathered at the Great House to pray that God would bless us in this which was much the same as our second undertaking, for without delay, and before night had come, we were to go across the bay and make for ourselves other homes.
And now lest it seem as if I were telling the same story twice, I will not set down anything concerning the building of this second village, because of that which we did in Trimountain being the same as had been done in Charlestown.
The Great House was taken apart and carried across the water, as were also the dwellings of logs, and while this was being done, the women and children stayed in Charlestown, where Master Thomas Graves had made, what seemed to Susan and me, odd rules and regulations.