A Christening and a Dinner
When another day came, we girls had a most delightful time, for there was to be a baby baptized in the house of logs where are held the meetings, and Mistress White, one of the gentlefolks who came here with the company of master Higginson, was to give a dinner because of her young son's having lived to be christened.
To both these festivals Susan and I were bidden, and it surprised me not a little to see so much of gaiety in this New World, where I had supposed every one went around in fear and trembling lest the savages should come to take their lives.
The christening was attended to first, as a matter of course, and, because of his having so lately arrived from England, Master Winthrop was called upon to speak to the people, which he did at great length. Although the baby, in stiff dress and mittens of linen, with his cap of cotton wadded thickly with wool, must have been very uncomfortable on account of the heat, he made but little outcry during all this ceremony, or even when Master Higginson prayed a very long time.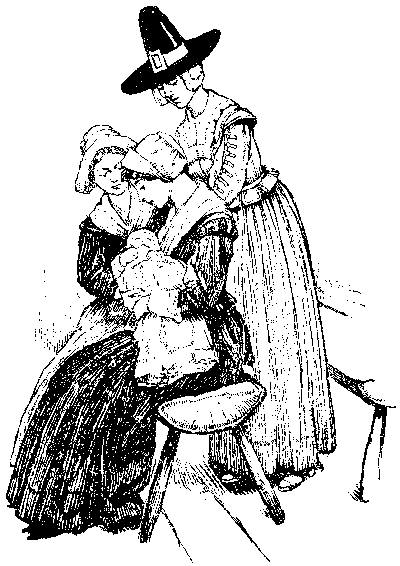 We were not above two hours in the meetinghouse, and then went to the home of Mistress White, getting there just as she came down from the loft with her young son in her arms.
Mother was quite shocked because of the baby's having nothing in his hands, and while she is not given to placing undue weight in beliefs which savor of heathenism, declares that she never knew any good to come of taking a child up or down in the house without having first placed silver or gold between his fingers.
Of course it is not so venturesome to bring a child down stairs empty-handed; but to take him back for the first time without something of value in his little fist, is the same as saying that he will never rise in the world to the gathering of wealth.
The dinner was much enjoyed by both Susan and me, even though the baby, who seemed to be frightened because of seeing so many strange faces, cried a goodly part of the time.
We had wild turkey roasted, and it was as pleasing a morsel as ever I put in my mouth. Then there was a huge pie of deer meat, with baked and fried fish in abundance, and lobsters so large that there was not a trencher bowl on the board big enough to hold a whole one. We had whitpot, yokhegg, suquatash, and many other Indian dishes, the making of which shall be explained as soon as I have learned the methods.
It was a most enjoyable feast, and the good people of Salem were so friendly that when we went on board ship that night, Susan and I were emboldened to say to my father, that we should be rejoiced when the time arrived for our company to build houses.