His First Budget
"Law in his voice and fortune in his hand."
—Johnson.
In 1852, Lord John Russell's Ministry came to an end, and Lord Derby was made Prime Minister. Among other appointments, he made Mr. Disraeli Chancellor of the Exchequer anal Leader of the House of Commons.
Now Mr. Disraeli had many and various gifts, but not one of his admirers had hitherto dreamed of including a capacity for the mastery of figures. Hence it came about that his first Budget was very severely criticized. For some time the debate over this Budget waxed fast and furious. At Last Mr. Disraeli rose to defend his hapless proposals. He spoke for five hours. He had never spoken with greater power; he pelted his opponents with sarcasm, and among other points he indulged in some scathing personal remarks. These stung Mr. Gladstone, sitting on the Opposition benches, into unexpected reply. It was two o'clock one December morning when Mr. Disraeli finished his speech.
"At that moment, when friends and foes alike thought that the last word had been spoken on either side, Mr. Gladstone bounded on to the floor amidst a storm of cheering and counter-cheering such as the walls of Parliament have never re-echoed since, and plunged straight into the heart of an oration which, in a single day, doubled his influence in Parliament and his popularity in the country."
"Gladstone has got his work cut out for him," said a member, as the young statesmen rose to his feet.
Such as speech must be answered on the moment, he affirmed in his clear, musical voice, though he was labouring under great excitement; it must be tied by the laws of decency and propriety. He condemned the language that had fallen from the lips of Mr. Disraeli as Leader of the House; then he attacked the financial scheme of the Chancellor of the Exchequer. Point by point, almost sentence by sentence, he answered his rival, until it became evident that he was creating a deeper impression on the House then Mr. Disraeli had done.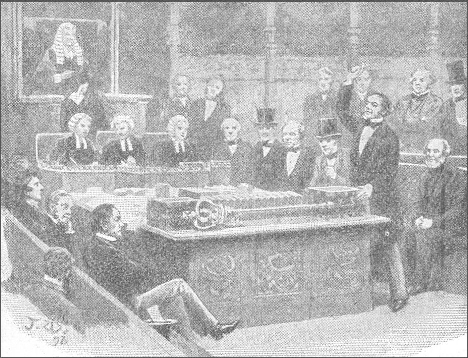 "Mr. Gladstone held the house spell-bound."
The Budget was living when Mr. Gladstone rose; when he sat down it was dead. In the early winter morning the division was taken—the government was defeated. Mr. Gladstone's speech had turned the vote.
Before another night passed, the resignation of the government was in the Queen's hands. The new Ministry, under Lord Aberdeen, found Mr. Gladstone in his rival's place as Chancellor of the Exchequer.
His Budget was awaited with the keenest interest. Much was expected, but Mr. Gladstone surpassed all expectations. It has been given to few financiers to make their Budget speech an interesting one. Mr. Gladstone's five-hours' speech "held the House spell-bound."
Here was an orator who could make "pippins and cheese interesting and tea serious:" a financier who could make the "dry bones of finance live;" one who could brighten the dullest financial subject with what might almost be called the "musical touch of genius," who could legislate with a prophetic mind for an unknown future, and yet bestow unlimited time and attention on "penny stamps and soap."
"It tended," said Mr. Russell, "to make life easier and cheaper for large and numerous classes."
He considered the poor people; he abolished the duty on soap—it was a tax on cleanliness, and injurious. He reduced the tax on tea by fourpence farthing a pound. He showed how carefully he had studied every detail by repealing taxes on all sorts of out-of-the-way things, such as paint-brushes, blacking, spectacles, preserved cucumbers, hams, honey, cider, and anchovies. He had carried out, as far as possible, the principles of that chief under whom he began his political career—the principles of free trade.
Here is a story which illustrates his attention to detail, and shows the time he must have given up to be certain he was correct in his figures:—
He was engaged one day in making a note of some shipping returns for the Budget in the London office of one Mr. Lindsey. A wealthy shipowner entered the office to see Mr. Lindsey on business, but that gentleman being out, he agreed to wait.
Mr. Gladstone went on meanwhile quietly copying his statistics. At last the shipowner came up to him and looked over his notes.
"Thou writest a bonny hand," he said.
"I am glad you think so," was the quiet reply.
"All, thou dolt; thou makest thy figures well; thou'st just the chap I want. I'm a man of few words. If thou'lt come over to canny old Sunderland, I'll give thee a hundred and twenty pounds a year; and that's a plum thou doesn't meet with every day in thy life, I reckon."
The young Minister thanked him for his kind offer, and when Mr. Lindsey entered, informed him of it.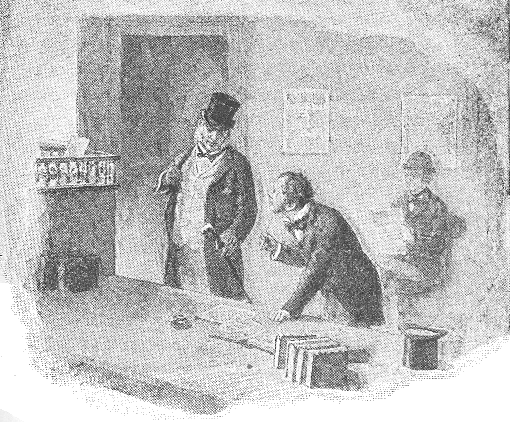 "Thou writest a bonny hand."
"Very well," said Mr. Lindsey. "I should be sorry to stand in your way, but under the circumstances I think the sooner you know each other the better. Allow me, therefore, to introduce the Right Honourable William Ewart Gladstone."
The wealthy shipowner was not a little taken aback, but he soon enjoyed the joke as thoroughly a did Mr. Gladstone himself.
This Budget of 1853 proclaimed Mr. Gladstone at the head of all financiers of his day. It was but the first of the thirteen Budgets which he framed in the course of his long and useful life.