Prime Minister
"As he stands on the height of his life, with a glimpse of a height that is higher."
—Tennyson.
"My mission is to pacify Ireland." So Mr. Gladstone had said while wood-cutting at Hawarden on the eve of his Premiership. He now set to work to render justice to Ireland, to "soothe the wounded feelings and the painful recollections of her people . . . to attach her to this island in the silken cords of love." And the first step he proposed in this direction was that the Irish Church, as a State Church, must cease to exist.
"If we le prudent men," he said in one of his most famous speeches on the subject, I hope we shall endeavour as far as in us lies, to make some provision for a contingent, a doubtful, and probably a dangerous future. If we be chivalrous men, I trust we shall endeavour to wipe away all those stains which the civilized world has for ages seen, or seemed to see, on the shield of England in her treatment of Ireland. If we be compassionate men, I hope we shall now, once for all, listen to the tale of woe which comes from her, and the reach of which, if not its justice, is testified by the continued migration of her people—that we shall endeavour to
'Raze out the written troubles from her brain.
Pluck from her memory the rooted sorrow.'
But, above all, if we he just men, we shall go forward in the name of truth and right, bearing this in mind—that when the case is proved, and the hour is come, justice delayed is justice denied."
It was no easy matter carrying through this Bill, and it was not till July 26, 1869, that it received the royal assent.
These were golden days for the Liberal party. They were united, enthusiastic, victorious, full of energy, confidence, and hope. Great works of reform lay before them; while at their head was a statesman who, by his high principle, intense earnestness, and practical skill, was able to inspire, attract, and lead.
When the disestablishment of the Irish Church had been accomplished, Mr. Gladstone at once undertook to redress another Irish grievance. For nearly forty years the relations between landlords and tenants in Ireland had been discussed in Parliament with little or no result, till the difficult question was grappled with by Mr. Gladstone in 1870, and carried to a successful conclusion. These early years of Mr. Gladstone's Administration were years of tremendous energy in reform. The work of the session was enormous. He never spared himself when there was work to be done, and he never spared his officials either. It was difficult to keep pace with his rare capacity for work.
"Good heavens!" cried a well-known official one day, as he sank exhausted into a chair, "there is nothing left of me!"
"Why, what have you been doing ?" asked his friend.
"Talking business with Mr. Gladstone for an hour!" was the answer.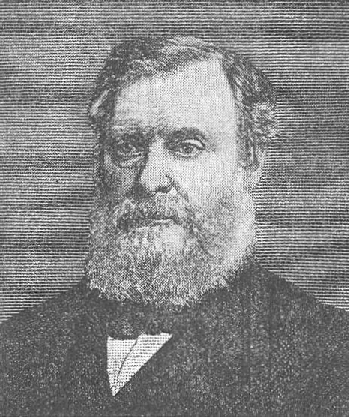 Mr. Forster.
Having settled Ireland for the moment, the energetic Prime Minister now turned his attention to establishing a great system of national education for England.
Up to this time there hail been no public system of elementary education in England; the State had doled out a grant to assist private charity in order to teach the children of the poor. Now a Bill was passed, mainly by the inspiration of Mr. Forster, which established for the first time a compulsory system of elementary education and instituted School Boards.
But the people soon grew tired of this flood of reformation; the breathless energy of the Prime Minister was almost too much for them. By 1871 it became apparent that the popularity of the Gladstonian Ministry was declining. Mr. Gladstone himself, who now represented Greenwich, had shown scant interest in the local affairs of his constituents; the air was heavy with threats and murmurs.
Mr. Gladstone, with characteristic courage, determined to meet the murmurers on their own ground—to face his constituents, explain the situation, and throw himself on the sympathies of the people.
It was a bleak October day when he stood bare-headed on Blackheath before twenty thousand persons.
When he appeared, peal after peal of cheering rent the air. There was a waving forest of hats. The cheering was too loud to last, and ever as it stopped a steady hissing was audible. As the Premier of all England stood forth hare-headed, intense silence fell upon the vast crowd. His first words were the signal for a tempest of noise. From all around the outskirts of the crowd rose something between a groan and a howl, while a burst of rapturous cheering tried to overmaster it. The battle raged between the two sounds; while Mr. Gladstone stood calm, resolute, patient, looking straight upon the excited crowd. For a time it seemed as if he must be hooted down without speaking; but at last he began. So carrying, was his voice, that all that great concourse of twenty thousand could hear his weighty words. It was not long before he had his audience with him; for two whole hours they stood enthralled, while step by step he cleared away the fog of prejudice and mistaken ill-feeling that surrounded his actions. It was a splendid speech.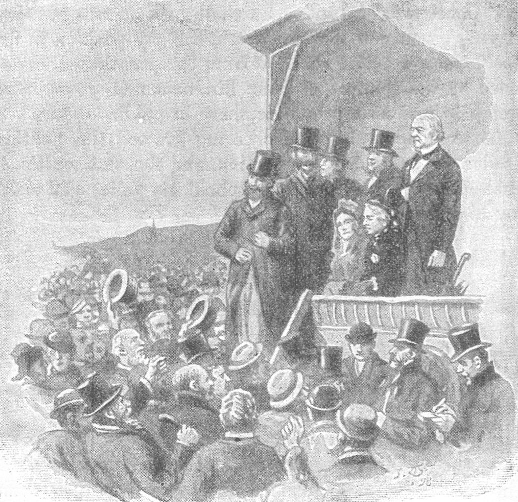 "Mr. Gladstone stood calm, resolute, patient."
"Gentlemen," he ended, "I shall go from this meeting, having given you the best account of my position in my feeble power . . . . I shall go from this meeting strengthened by the comfort of your kindness and your indulgence to resume my humble share in public labours."
A tremendous burst of cheering greeted the political leader as he ended his oration, and the vast multitude melted away, determined to uphold his policy and stand by him through thick and thin.