Storm and Stress
"Oh, 'tis a burden, Cromwell,
Too heavy for a man who hopes for heaven."
—Shakespeare.
So Mr. Gladstone had written in his diary in 1880, when he became Prime Minister for the second time. The few months he had been in office had shown in what a sympathetic spirit he had entered the well-known words.
In the autumn of 1881 he made a very celebrated speech at Leeds, defending his Transvaal policy, which had been very vigorously condemned.
"And we who are now in government as your agents," he concluded, ''will do the best and utmost and latest of our power—while studying peace with all the world, while endeavouring to persuade men into the observance of the laws of justice and equality never to forget what is due to the dignity of the throne of Queen Victoria; and neither in east nor west, neither in north nor south, shall it be said truly of us that the concessions which we make are concessions wrung from fear, or shall there be a doubt of our determination, to the best of our ability, to maintain the laws at home and the dignity of the empire throughout the world."
On the wall of the Banqueting Hall at Leeds, glittering in jets of light, were Tennyson's words, "He reverenced his conscience as his king;" while more than one poem was addressed to him by his enthusiastic audience, showing that there were some at least who appreciated his Transvaal conduct.
"Thy thought, O poet, writ in light at Leeds,
Then, flashed to all the English-speaking race,
And, pointed by his presence whose great deeds
Inwought in England's history we trace,
Shines like a guiding star, from tin high place
Where Truth with clear-eyed Duty sits enshrined
In royal dignity and queenly grace,
Sole rightful Mistress of the human mind.
Through all the toils and dangers of the way—
Fierce faction hate and rancorous party strife—
Thank God! that England's foremost son doth lay
Upon that shrine the homage of a life
Pure in its motive, lofty in its aim!
And Truth for aye will guard our Gladstone's name."
But worse stumbling-blocks even than the Transvaal lay before the government.
Ireland was, as usual, in trouble, and Mr. Gladstone, as usual, ready to turn his attentions to lessening the trouble, if they would only be patient. But the Irish party had got a new leader in Mr. Parnell, the most powerful Parliamentary figure that had arisen in Irish history for some time. Parnell's dream for Ireland was a National Parliament in Dublin. He was impatient, and not to be set aside by Mr. Gladstone's promises for the future.
"If you will not listen to our Irish national claim;" said Mr. Parnell, "then we will not allow you to discuss any other question whatever, if we can prevent the discussion."
He carried this system of obstruction through everything; he made it his sole business in life.
Meanwhile matters in Ireland only grew from bad to worse. Irishmen had believed that a Liberal Government would have been their friend; they began to lose all faith in English statesmanship. The author of the Land Act of 1570 was in power, and he was doing nothing to mend matters—so they thought. As soon as possible Mr. Gladstone pushed through a new Land Act for Ireland; but it was quite inadequate.
Mr. Forster, the Chief Secretary, was growing desperate. His attitude was one of antagonism towards the Irish people. He imprisoned any one who was suspected of disturbing the country; amongst others Mr. Parnell was imprisoned.
The whole situation at last became impossible. Mr. Parnell was released. Mr. Forster resigned, and a new Chief Secretary, Lord Frederick Cavendish, was appointed.
This all happened in the early summer of 1882.
"My mission is to pacify Ireland," Gladstone had said, some four-and-twenty years before this. His mission did not seem to be fulfilled yet.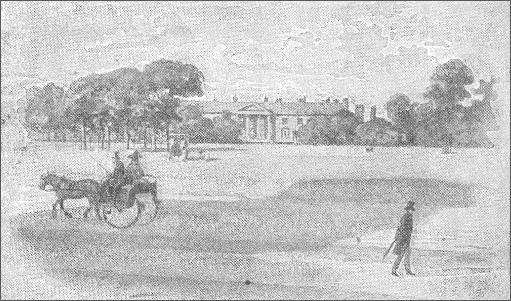 Phoenix Park, Dublin, showing Viceregal Lodge.
On Saturday, the sixth of May, the newly-appointed Viceroy of Ireland, Lord Spencer, made his state entry into Dublin together with Lord Frederick Cavendish, the newly-appointed Chief Secretary, a very dear friend of Mr. Gladstone's.
It was a fair summer evening, and the Chief Secretary, together with his Under-Secretary, were walking quietly through the Phœnix Park, when some ruffians attacked them and murdered them in cold blood. On Sunday morning, when the news became known in England, a thrill of horror passed over the country.
A wild outcry was raised against Mr. Parnell and his party. Mr. Parnell openly denounced any part in such foul play, and wrote at once a flank and friendly letter to Mr. Gladstone, offering to retire from Parliament and public life altogether, if he thought it better.
Mr. Gladstone refused to accept such a sacrifice, and advised Mr. Parnell to stick to his post, which he did; and from this time dates a friendship between the Prime Minister and the leader of the Irish party, Mr. Parnell.