Other Old Friends
"Souls that have toiled and wrought and thought with me."
—Tennyson
Gladstone was not a man of many friendships, but his friends were stanch and true to him as a man, if they could not follow him to the end with his politics. Now they were passing away one by one before him, leaving him a solitary figure in his old age. Arthur Hallam, the friend of his Eton days, had died long ago, at the early age of twenty-three.
"Far back in the distance of my early life, and upon a surface not yet ruffled by contention, there lies the memory of a friendship surpassing every other that has ever been enjoyed by one greatly blessed both in the number and the excellence of his friends." So wrote Mr. Gladstone, but a few months before his own death, of that friend he had loved and mourned with Tennyson so long ago.
Henry Manning, afterwards Cardinal Archbishop of Westminster, was a very close friend during Gladstone's Oxford days, though his subsequent change to the Roman Catholic Church estranged them in later life. They read and walked together, at Oxford; together they paid their first visit to Rome, in the winter of 1834. It is said that at this time Manning would have given anything to be in the political world, while Gladstone would have preferred the church. Gladstone noted with deep grief how, towards the year 1851, Manning and another friend, Hope, were leaning toward the Church of Rome; and when the news reached him that they had been received together into the Roman Church, his sorrow was overwhelming. "I feel as if I had lost my two eyes," he said sadly, realizing but too well the breach this step must necessarily make between the friends. "I should say," wrote one who knew him well, "that it touched the depths of his soul almost more than anything which has happened since."
It was indeed the parting of the ways. Henceforth the friendship between Gladstone and Manning was as between two men inhabiting separate worlds. Yet Cardinal Manning's letter to Mrs. Gladstone in 1889, on the occasion of her golden wedding, shows how deep and lasting was his affection still for his old friend.
The last time we met you said, 'I do not forget old days,' and truly I can say so too. Therefore, in the midst of all who will be congratulating you on the fiftieth anniversary of your home-life, I cannot be silent. I have watched you both out on the sea of public tumults from my quiet shores. You know how nearly I have agreed in William's political career, especially in his Irish policy of the last twenty years . . . . We have had a long climb up those eighty steps, and I hope we shall not 'break the pitcher at the fountain.'"
Another lifelong friend was Samuel Wilberforce, four years his senior, the wisest of counsellors, the strongest of supporters, the most faithful of friends. They had become acquainted with each other early in life; acquaintance soon ripened into friendship. The one became a bishop about the same time that the other became a Cabinet Minister; the friendship of both was sealed by common interests in the sphere of religion and the church.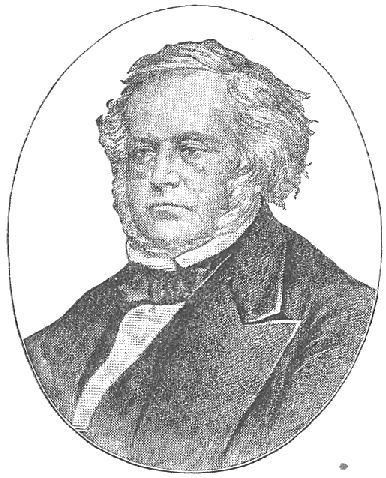 John Bright.
On July 19, 1873, Samuel Wilberforce, Bishop of Oxford, was killed by a sudden fall from his horse while riding in Surrey. We get a picture of the friends together for the last time, from an eyewitness. "Among those who came that Monday morning," he says, "was Mr. Gladstone; and well the writer of these lines remembers the scene in that room: the peaceful body of the bishop, the lines of care and trouble smoothed out of the face, the beautiful smile of satisfaction, and, kneeling reverentially by that body, Mr. Gladstone, whose sobs attested how deeply his feelings were moved by the sudden loss of his long-tried friend."
One of his warmest friends was John Bright. It is no secret that one of the severest of the many trials resulting from Mr. Gladstone's convictions with regard to Home Rule for Ireland was the estrangement which sprang up between Bright and himself.
"To think," said Mr. Bright to a friend one day—"to think, after we had trodden the same path together, shoulder to shoulder and hand in hand, we should be forced apart in the evening of our lives! And by what? By a bogey that has risen up within him, and is beckoning him away from duty and sense."
To the same friend, not long after, Mr. Gladstone was speaking.
"Ah," he said, when the subject of Mr. Bright turned up, "how did you find him?"
"Fairly well," was the answer; "and he spoke very affectionately of you, Mr. Gladstone."
"Did he indeed?" he replied sorrowfully—"did he indeed? Ah, that was a cruel blow—that, after a lifetime of mutual esteem, and of good work carried through together, we should be divided on so clear a question."
A lady was once abusing Mr. Gladstone and his policy to John Bright.
"Madam," interrupted his old friend and comrade, "let me counsel you to take your little boy to see Mr. Gladstone, in order that when he is an old man he may tell his children and grandchildren that he has seen the greatest Englishman he is ever likely to look upon."
When Bright was dying he received a long and sympathetic letter from his old friend Gladstone. He was too ill to write a reply to it himself, but he handled it fondly during the last days of his life, and after his death the letter was found under his pillow.
Mr. Gladstone paid a most splendid and touching tribute to his memory. "Mr. Bright," he exclaimed, "is entitled to a higher eulogy than any that could be due to mere success. Of mere success he was indeed a conspicuous example; in intellect he might claim a distinguished place. But the character of the man lay deeper than his intellect, deeper than his eloquence, deeper than anything that could be described as seen upon the surface. The supreme eulogy which is his due is, I apprehend, that he lifted political life to a higher elevation and to a loftier standard."
Other friends he had, stanch and faithful and true, many of whom have been left to feel the blank in their lives from which that presence has been taken away.