A Gift to the Nation
"The mind that thought for Britain's weal."
—Scott.
Mr. Gladstone's retirement from political life was now final. In the following May he underwent an operation on one eye for cataract, which was quite successful, and enabled him once more to enjoy his reading. Besides being engaged in editing the theological works of Bishop Butler, working sometimes as much as ten hours at a stretch, he had made up his mind to bequeath to the nation a vast number of his theological books, and this entailed a great deal of work. Throughout the years of his long life he had collected some very rare books; but they had overflowed his library at Hawarden. So he now determined to build a library not far off, which should be open to all theological students, and to arrange, by means of a hostel, for their board and lodging while engaged in their work.
Weeding out these books was no light task. Cartload after cartload left the Temple of Peace, to be rearranged in the newly-built library, called St. Deiniol's, after the Welsh patron saint.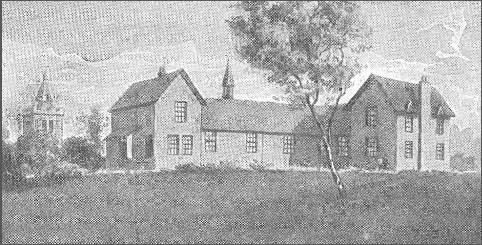 St. Deiniol's Library, Hawarden.
"But do you not miss the thousands of books you have sent down into St. Deiniol's Library?" people would ask him.
"Yes, I do miss them," was the old man's answer; "I miss them every day and every hour. When I want a book, it is sure to be at St. Deiniol's."
The answer was made in a tone of playful grumbling, but it was pathetic in its love for the books he was thus giving away even during his lifetime.
This Iron Library, built by Mr. Gladstone, stands on the breezy hill-top of Hawarden, just above the Parish Church. Inside, it is arranged in the same way as the Temple of Peace: there are windows on either side of the long room; between these are high bookcases running toward the centre of the room. Here are the same simplicity, the same quiet comfort, the same atmosphere of repose that characterize Mr. Gladstone's own library at the Castle.
The "Divinity Room" leads on to the "Humanity Room," which contains secular books. Here are foreign authors and poets, biography, history, travel, fiction; here also are many presents, such as pictures, caskets, albums, chairs, and paper-knives, given to Mr. Gladstone on various occasions by political friends and disciples. Five small studies are set apart for students who prefer to work in solitude. And for the sake of those who live at a distance there is the little old hostel within a stone's-throw. It is a square, two-storied little brick house, with nooks and corners, and cheerful, cosy rooms, where students, curates, and authors may dwell at twenty-five shillings a week. The warden of both hostel and library is Mr. Drew.
And so the evening of his days passed away in quiet enjoyment of his home and his family.
Of his four sons, the eldest, William Henry, had sat in the House of Commons as member for Whitby; but being a man of gentle and retiring disposition, he did not take kindly to the turmoil of politics, and when the opportunity presented itself he gladly withdrew. He died several years before his father, leaving several sons—the eldest, William Glynne Charles, being heir to the Hawarden estate.
Mr. Gladstone's second son, Stephen, is rector of Hawarden.
His third son, Henry, has followed the family traditions by entering upon commercial pursuits.
Mr. Herbert Gladstone, the youngest of the four, is the only one who has followed in his father's footsteps and become a politician. For some years he acted as private secretary to his father, though he received no salary. He became in succession a Lord of the Treasury and Financial Secretary to the War Office. Upon his father's retirement in 1894, the colleagues who had long worked with Mr. Herbert Gladstone made haste to do him fuller justice, promoting him to the position of First Commissioner of Works.
Of his three daughters, one is married to Mr. Drew; another to Mr. Wickham, headmaster of Wellington College, and now Dean of Lincoln; while the third, Miss Helen Gladstone, was for some time Principal of Newnham College, Oxford.
This is a modest record for the family of a man four times Premier of England, with sees and preferments to give away—happy in keeping around him those he loved best. This he proclaimed on the occasion of his golden wedding in 1889, when, outside the village, the horses of his carriage had been taken out and thirty picked men from the Hawarden estate had drawn it triumphantly to the Castle.
"Our children have never been governed at any period by force," he then said, turning to address the crowds. "We have had faith in the principles of love and of mutual attachment, and we have received in their conduct our richest reward."