Home Rule
"Lord of the golden tongue and smiting eyes,
Great out of season, and untimely wise."
—Watson.
In the summer of 1885, Mr. Gladstone, with his wife and daughter, took a much-needed holiday to Norway, on board the well-known little Sunbeam yacht, with its owners, Lord and Lady Brassey. But little enough leisure was to fall to the lot of the aged statesman. Though not in power, the Liberals were very strong under the commanding authority of Mr. Gladstone. A rumour was afloat, which quickly passed into a definite statement, that Mr. Gladstone had become a convert to the principles of Home Rule.
Some of his colleagues emphatically denied the statement. Mr. Gladstone himself was silent.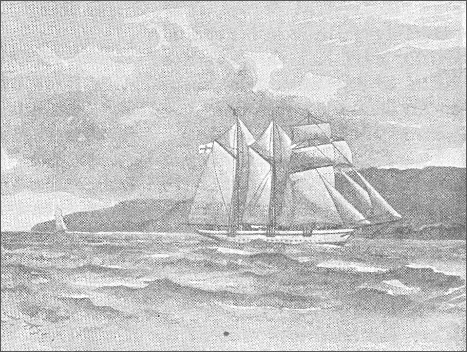 The Sunbeam.
"As for myself," he said, "it is my duty at the present moment to think, and think, and think." The result of this thinking was made known to the world when, with the fall of the Conservative Government, Mr. Gladstone was asked to form a Ministry for the third time. To the electors of Midlothian, early in 1886, Mr. Gladstone betrayed his secret.
"The hope and purpose of the new government," he said, "in taking office, is to examine carefully whether it is not practicable to try some method of meeting the present case of Ireland and ministering to its wants, more safe and more effectual, going nearer to the source and seat of the mischief, and offering more promise of stability, than the method of separate and restrictive criminal legislation."
On the eighth of April Mr. Gladstone moved in the House for leave to introduce his "Bill for the Better Government of Ireland."
When he had declared for Home Rule, the allegiance of his followers had been put to a severe test. Many of his oldest and best friends felt obliged to forsake him. They echoed the words of Lord Tennyson when he said, "I love Gladstone, but I hate his Irish policy."
"It is all very dreary and unhappy just now," wrote one; "the G.O.M. persisting in his heroic enterprise in the teeth of everything and everybody, sure he is right, and apparently sure that he knows best the conditions of success. I cannot conceive how it will all end. But whether he is right or not, there is something to me unspeakably pathetic in his solitude."
Hardly ever had there been so intense an anxiety to listen to any ministerial statement as there was to hear Mr. Gladstone introduce his Home Rule Bill. It was arranged that the House of Commons should be opened for the admission of members as early as six o'clock in the morning. Many arrived at half-past five, and planted their backs to the doors, in order to be able to rush in at the moment when the doors were opened. A member who came down as late as seven had not the faintest chance of a good seat. The House was literally crammed from end to end.
When Mr. Gladstone entered the House from behind the Speaker's chair, at half-past four o'clock, he was received with the most enthusiastic cheering. He began his speech amid breathless silence, and spoke for three hours and a half. The scheme was a complicated one. It was based on two leading principles—Ireland was to have a Parliament of her own, and should have no representation in the Imperial Parliament at Westminster. But the House was not ready for such a sweeping scheme of reform. The Bill was thrown out on the second reading, early in June, by a majority of thirty, and after five months of power Mr. Gladstone's third Administration was ended.
At this time he felt most deeply the desertion of many of his old friends, who had fought shoulder to shoulder with him, and had encouraged him in his schemes of reform.
An appeal to the country on the question of Home Rule was the next step. With voice and pen Mr. Gladstone, now seventy-six years old, entered on an extraordinary course of physical and mental efforts. His cause was defeated, but not abandoned.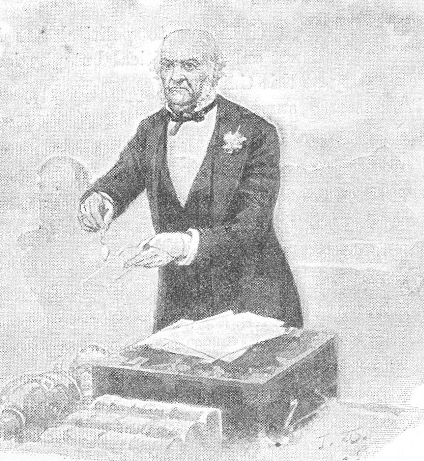 "He began his speech amid breathless silence."
His progress through Midlothian was a triumphant career, his speeches some of the best he had ever made; but the elections closed with a large majority against Home Rule. He was still convinced that he was right; his cause was good, and he felt sure that it must win in the end.
"I believe that what binds me to political life is justice to Ireland, and not only to political but physical life," he used to say at this time.
His attitude seems summed up in Mrs. Browning's words:—
"A great man (who was crowned one day)
Imagined a great Deed.
He shaped it out of cloud and clay,
He touched it finely, till the seed
Possessed the flowers; from heart and brain
He fed it with large thoughts humane,
To help a people's need.
But he stood sad before the sun
(The people felt their fate):
'The world is many—I am one;
My great Deed was too great.
God's fruit of justice ripens slow:
Men's souls are narrow; let them grow.
My brothers, we must wait."