Member for Oxford
"I have loved the University of Oxford with a deep and passionate love; and so I shall love it to the end."

—Gladstone.
In the winter of 1845, Mr. Gladstone met with a slight accident which left its mark for ever. He was fond of shooting, and many a time would rush off to the Scottish moors to see what game he could persuade into his bag."
One day his gun suddenly exploded at the moment when he was loading it, and so injured the first finger of his left hand that the finger had to be amputated. From that time he always wore a finger-stall and a black ribbon round his hand to cover the unfortunate stump of a finger.
It is said that when a certain artist painted his picture for the National Liberal Club, he omitted this black ribbon, as being inartistic. But Mr. Gladstone, when he saw the picture, saw too that it was untrue; he sent his finger-stall to the artist, with a request that it might be painted in. In a gun-rack at Hawarden the Westley-Richards muzzle-loader which caused this accident may still be seen.
His passion for the hewing down of trees came at a later date, and it probably did much to strengthen him and keep him in good health. For though he was a man of prodigious study, reading and writing on an immense number of subjects outside his political life, yet he never allowed himself to become a mere Member of Parliament or a mere student. He remembered that he had muscles and limbs to keep in vigorous, healthy action, and that no man can develop his mental powers to the full unless he develop his physical powers too.
He had resigned his post for conscience' sake, but meanwhile changes were taking place in the government—changes which were to influence considerably Mr. Gladstone's career.
The failure of the potato crop in Ireland in the summer of 1845 caused an Irish famine. Steps were suggested in Parliament to meet this impending calamity. Sir Robert Peel took a bold step: he urged upon his colleagues that all restrictions on the importation of food should be at once suspended. Great dissensions arose in the Cabinet. This idea of free trade had long been growing in favour. Sir Robert Peel had to bring new men into his Ministry—men who were in favour of free trade. Mr. Gladstone had by this time become a thorough convert to his chief's principles, and when invited by Peel to fill the office of Colonial Secretary he accepted the post gladly.
By so doing he forfeited his seat as Member for Newark. The Duke of Newcastle, to whose patronage Gladstone owed his seat, was emphatically against free trade. He had turned out his own son for accepting office under Peel; it was somewhat natural he should show no mercy to the "brilliant but wayward politician" who represented his views in the House of Commons.
Mr. Gladstone therefore retired from Newark, and by so doing one of his fondest hopes was realized—he was now invited to stand for the University of Oxford. There was no place in England he was better qualified to represent. Oxford had been the home of his younger days; its scenery, its surroundings, its buildings, its history, its traditions were dear to his heart. He himself confessed that he "desired it with an almost passionate fondness."
His address to the electors of Oxford is still a document of public and personal interest. For the first time he explained certain convictions that had been growing with regard to public matters. There was great excitement over the elections; a number of well-known men came to "plump for Gladstone," the crowd in the Convocation House was dense, and more than one ardent voter was carried out in a fainting condition, so great was the press.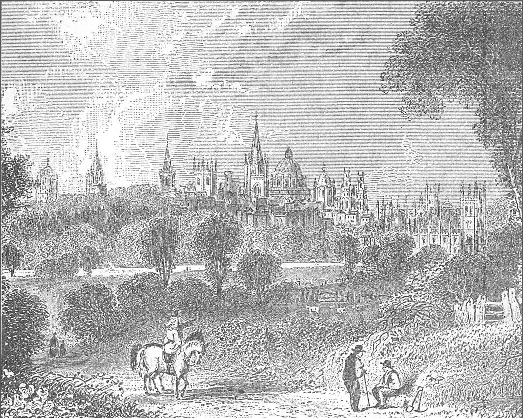 Oxford.
At the close of the poll it was found that, though he did not head the lists, Mr. Gladstone had got his seat for the university.
"I have endeavoured to serve that university with my whole heart; and with the strength or weakness of whatever faculties God has given me." he said pathetically, when Oxford turned him out, after his eighteen years of serving her.
Mr. Gladstone did not hold the post of Colonial Secretary very long; for the Peel Government fell in the summer of 1846, and Lord John Russell formed a Whig Ministry, which remained in power till 1852.