Life at Hawarden
"Change of labour is, to a great extent, the healthiest form of recreation."

—Gladstone.
It was to his home at Hawarden Castle that Mr. Gladstone retired for a well-won rest in 1874. The castle stands in "a delightful corner of Cheshire," about half a mile from the quiet little village on the hill-top, the blue smoke rising from the snug little cottages, which seem to have but little other signs of life. Here is a simple account of the home where Mr. Gladstone passed so many years of "the evening of his day's":—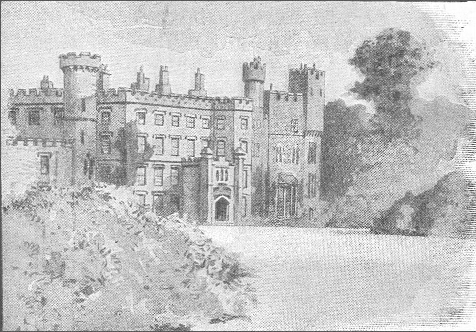 Hawarden Castle.
"Hawarden Park stood in all the glory of October's golden crown. The chestnut trees seemed to radiate yellow light, the beeches and oaks were billows of coppery red, the roses against the castle walls and in the quaint Italian gardens were still in blown and amidst these very silent, very beautiful scenes, Mr. Gladstone leads his simple life among his own friends, and with a constant stream of visitors, not one of whom leaves Hawarden Castle without being more than ever impressed with Mr. Gladstone's marvellous vitality."
After years of such hard work, it would have been quite natural if Mr. Gladstone, at the age of sixty-five, had treated himself to some small luxuries. But his manner of living, whether in office or out of office, was Spartan in its simplicity. At a quarter to eight, every morning of his life at Hawarden, he walked to church. He refused any refreshment. He refused any company. He walked that half-mile to church alone.
The short service over, he returned with his family to breakfast. Here again extreme simplicity prevailed. Apart from his medical orders, he disliked anything but the plainest fare, and usually breakfasted on fish. Having absorbed the contents of several newspapers, he went off to his library, now so well known as the "Temple of Peace."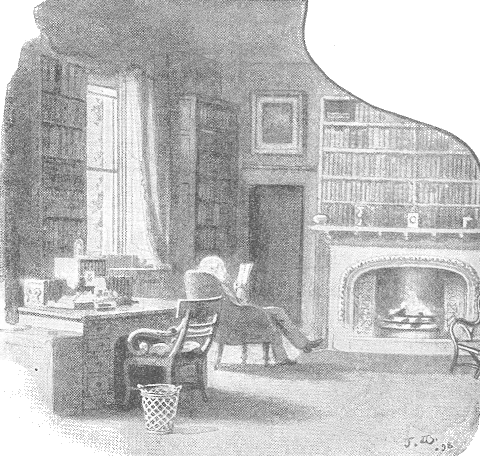 The "Temple of Peace," Hawarden
He never smoked. He belonged to the older school, and formed his habits at a time when tobaccos smoking was looked on as a somewhat vulgar performance.
The library, where he spent his day, was no show place. It was filled with books of every size, and of every subject. The book's were ingeniously arranged, so that not one of them was hidden behind another, but the titles could be seen at a glance by any one with good eyesight. The books were all arranged according to subject, and not according to size. Everything was in its right place, though the room was so much lived in. Papers were tied up in neat bundles, and labeled in Mr. Gladstone's own handwriting.
Three writing-tables stool in the library. At one Mrs. Gladstone wrote her letters: the second, standing between two windows, was Mr. Gladstone's political desk; the third was his literary writing-table, in a niche by the window, the most peaceful corner in that Temple of Peace. The whole table was covered with books of reference. Here he sat absorbed in his work, now writing rapidly and eagerly for some minutes, now throwing down his pen and dipping deep into one of the books lying on the table near him. His concentration was marvellous. People might come and go in his room; he worked on, undisturbed by voices. Whatever the work he had in hand, it took hold of him so entirely that he had to be roused from it as most people are roused from sleep.
As the gong sounded for lunch, and not till then, he would lay down his pen. Punctuality at meals, as in all things, was his habit; and he was soon seated at the head of his table, conversing on all topics of the day with those present. After a light meal he would return to his library, and be soon as deeply absorbed in his work as before.
Later in the day Mr. Gladstone would take his much-needed exercise. With his axe, and usually accompanied by one or more members of his family, he would saunter forth wool-cutting. He never cut down a tree wantonly for the mere sake of exercise. Sometimes the fate of a tree at Hawarden hung in the balance for years. The opinion of the family was consulted; visitors were asked to contribute advice. Mr. Ruskin once sealed the fate of an oak; Sir John Millais decided on the removal of an elm.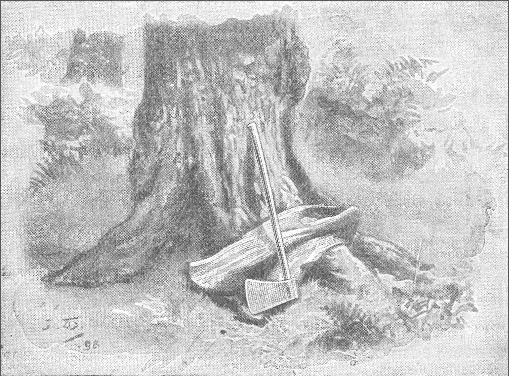 Mr. Gladstone wielded the axe with the skill of an experienced woodman. Many are the stories told of his wood-cutting.
"We are very proud of our trees," he said one day to a party of tourists: "and we are therefore getting anxious, as this beech has already shown symptoms of decay. We set great store by our trees."
Why then do you cut 'em down as you do?" roared one of the lads.
"We cut down that we may improve. We remove rottenness that we may restore health by letting in air and light. As a good Liberal, you ought to understand that."
His generosity in throwing Hawarden Park open to visitors was greatly appreciated in the neighbourhood; but the general public took undue advantage of his kindness. They picked his flowers, they carved their names on his walls, they took chips front his trees, and even cut his name out of his Bible in Hawarden Church.
The end of Mr. Gladstone's day at Hawarden was in keeping with the rest. On quiet evenings, after dinner, when there were no visitors at the castle, he would sit and chat with various members of his family. Shortly after ten his day was over, and, with the regularity of a child, he would go off to bed at his appointed hour.
Such was the simplicity of Mr. Gladstone's life. True indeed of his own life are the words he applied to the lives of others: "In the sphere of common experience, we see some human beings live and die, and furnish by their life no special lessons visible to man, hut only that general teaching, in elementary and simple forms, which is deducible from every particle of human histories. Others there have been who, from the time when their young lives first, as it were, peeped over the horizon, seemed at once to
'Flame in the forehead of the morning sky'—
whose lengthening years have been but one growing splendour and who at last—
'Leave a lofty name,
A light, a landmark, on the cliffs of fame.'