Master Stuyvesant Absent
On the night this welcome news was brought to New Amsterdam, the farm buildings belonging to Martin Kip were actually crowded with men, who had come thus far out of the city that they might decide upon what should be done when the Director gave orders for all the citizens to stand to their weapons, and a most excited throng it was.
Some one brought word that a messenger had been sent in hot haste up the river to summon Master Stuyvesant, and others had learned from fishermen who had been in the lower bay, that the English fleet was even at that moment in sight.
Although the people had been so disposed, nothing could be done in the way of making ready to defend the city until Master Stuyvesant came back, and from all I could hear, though as a matter of course I had no speech with those who were friendly with the Director, no one was sorry because of there promising soon to be an end to Dutch rule in America.
We were well content to remain idle, knowing that each hour of the Director's absence made more certain the end we desired, and it was rather from curiosity than anxiety, that Martin Kip and I stood half sheltered by one of the bastions of the fort when Master Stuyvesant arrived.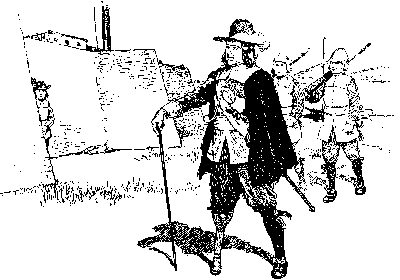 During the hurried journey he must have settled in his own mind exactly what should be done, for within ten minutes after having come, orders were given that every third man of all the citizens should, with axe, spade, or wheelbarrow, present himself at the fort ready to aid in strengthening the works.