A Three Days' Truce
Upon this Master Stuyvesant asked for three days in which to consult with his advisors, forgetting, perhaps, that the Swedes had asked for only twelve hours, and he had refused.
To this request Colonel Nicolls agreed, but at the same time made all his preparations for opening fire upon the city, in case Master Stuyvesant was so pig- headed as to refuse to surrender.
Two of the ships were sent up the river and anchored where they could throw shot into the fort at short range, while the others were moored off Nutten Island, sending five companies of soldiers ashore near the ferry landing on Long Island, where they went into camp.
Next morning a company of horsemen and a band of soldiers came down from Hartford, and were ferried across in the boats of the fleet, thus showing that the Massachusetts Bay Company would do what they might to carry out the wishes of King Charles.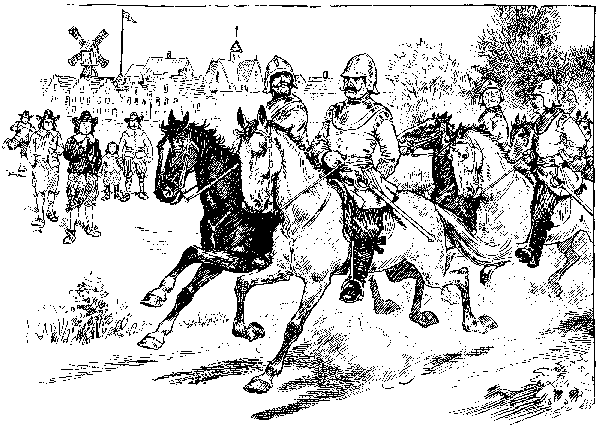 That night the commander of the English fleet sent ashore, secretly, twenty or more written messages to the people, and both Martin Kip, on whose farm the messengers landed, and I, knew beyond a peradventure that there were found men in New Amsterdam willing to spend their time carrying them where the most good might be done to the enemy.
In these messages Colonel Nicolls promised all who would lay down their arms, full liberty to remain on the land, without being molested in any way, and agreed that his king would protect them in the holding of all their property.
Now even those who had been hesitating whether to side with the Dutch or the English, were eager to see the surrender of the city, and when the Director called upon citizens to work on the fort or the palisade, he could find none save servants or slaves to answer his summons, and even these it was necessary to drive wwith such of the soldiers as were yet willing to obey orders.