With the Fleet
And now to go back to the war against the Swedes: I left the storehouse in charge of Kryn Gildersleeve, and on Sunday morning bright and early was in church to hear the sermon which was to be preached, as a portion of the religious preparations for the driving out of the Swedes.
When the sermon was at an end, instead of looking around the fort to see the soldiers paraded before being sent on board the fleet, I quietly took boat for the ship De Waag, and was there an hour after noon, when Director Stuyvesant, attended by eight trumpeters, and a bodyguard of sixteen men, put off from the shore amid the booming of cannon, as if he had been a veritable king.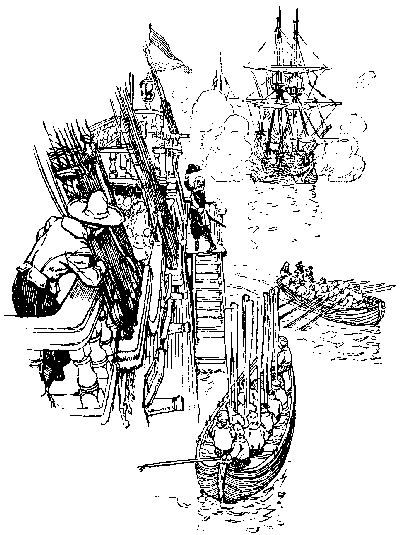 I know not whether the Director had really given orders to his secretary that I should be informed as to what was expected of me, but suppose such must have been the case, although no heed was given to so small an official as myself, from the time of setting sail until we were returned to New Amsterdam.
So far as Master Stuyvesant was concerned, I might as well not have been there, but this overlooking me did not cause my heart to burn, for I was well content to be forgotten entirely by the gentleman who ruled over our city with an iron hand.
The officers of the ship, whose acquaintance I had already made, gave me fairly comfortable quarters, apart from the Director's following, and although such expeditions were not to my mind, I drank in all of the enjoyment that could come to one who was embarked upon a venture which to him seemed wrongful.
There is no need why I should tell you anything whatsoever concerning the journey from New Amsterdam to Trinity, save to say that we arrived off that fort at noon on the following Friday, when without delay our trumpeters were sent on shore to demand the surrender.