Two Days in Plymouth
The Secretary was received into the house of the governor, Master Bradford, and I neither saw nor heard from him, save when he sent me word next morning, which was the Sabbath, that he expected I would show myself at the meeting-house.
All this would I have done even though he had not been so thoughtful, for I was burning to hear the preachers my father had known: but the sermon was overly long; I was tired from the journey of the day before, and, without meaning so much disrespect to the minister, I fell asleep, nor did I awaken until one of the tithing-men struck me a sharp blow on the head with a long pole, at the end of which was affixed a wolf's tail.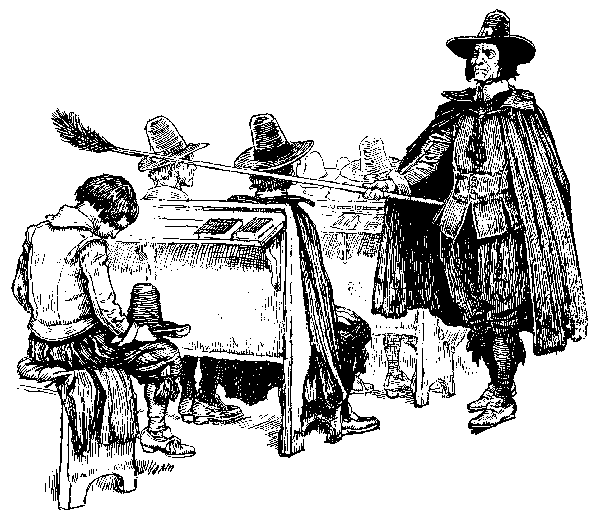 It can well be supposed that from then on I sat bolt upright, my face crimsoned with shame, and after such moment I had no desire to make myself known to any who had met my father and mother, lest they reproach me for they crime I had committed.
We stayed in Plymouth the first two days of the week, and I had good opportunity to see the town; but did not fall in love with it. Although the people had been living there more than seven scars, save for the manner in which the houses were built, they were not so comfortably settled as we of New Amsterdam, who had been in America no more than fourteen months.
I had a good look at that valiant soldier, Miles Standish, who had fought in the Dutch army, as I well knew, and was much pleased with his appearance, though I made no effort to have speech with him because of what I had done in the church.
It was Wednesday morning when we set out on our return, and I must confess that I was happy, rather than sad, at turning my back upon the English to meet the Dutch, for while we have less of preaching in New Amsterdam, there is more of friendliness shown to strangers, or, so it seemed to me whose heart was sore.
Neither Mans nor Kryn had been called upon to take my place in the storehouse, and within ten minutes after the Nassau had come to anchor off the fort, I was at work showing goods to the savages, as if I had seen no more of this New World than those who labored with me.
By this time our church was set in order, being, as I have said, in the loft of the horse-mill, and you may be certain I did not allow my eyes to close in slumber when I went to hear the zeikentroosters explain the holy words next Sabbath day. We had no such pulpit as they at Plymouth, but our benches were fairly comfortable to sit on, and Master Minuit's chair had in it a red cushion that made a braver show than anything I saw among the English.