The Coming of the English

The Coming of the English
It was reported that the English, with four ships, had arrived at Boston from England, and were making ready to come against New Amsterdam, to the end that it might be taken from the Dutch, even as they had taken Trinity and Christina from the Swedes.
We knew that there could be no doubt as to the truth of the news, for even the names and strength of the ships were given, and there was little question but that they had already sailed from Boston, therefore did we have reason to believe the fleet would be in our harbor very soon.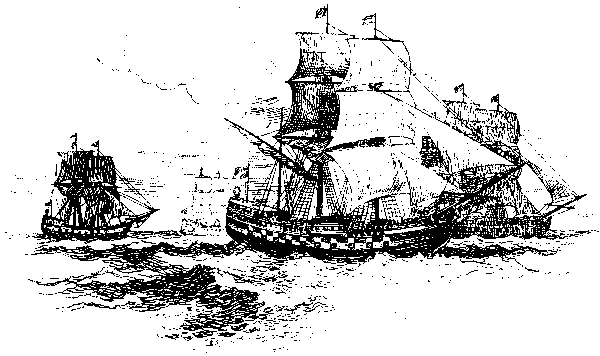 The force which King Charles had sent on advice of his brother, the Duke of York, was made up of the Guinea, carrying thirty-six guns, the Elias with thirty, the Martin, with sixteen, and the William and Nicholas with ten, making ninety-two guns against our twenty-two bombards, culverins, and serpentines.
It was reported also that many of the English from Hartford, who believed they had cause of complaint against Master Stuvvesant, had joined themselves to the soldiers sent from England, and that no less a person than Governor Winthrop was with them.
To show how complete was the information which came to us discontented ones of New Amsterdam, it is only needed for me to say that we even knew that the English commander was Colonel Richard Nicolls, who was to be Deputy Governor of the West India Company's possessions when he had captured them.