Summoned to the Cabin
Now it was as if Master Minuit, who had given no heed during all the voyage as to whether I might be alive or dead, suddenly remembered that somewhere on board the Sea Mew he had a servant by the name of Peter Hulbert, and straightway sent one of the serving men from the great cabin to hunt me out.
From the time of leaving Amsterdam, until this moment, no one had shown any desire to have speech with me, while all had acted as if believing I was of no more use in this world than to cumber their path; thus it came near to startling me when my name was called, so that I hung back, hardly knowing if I was expected to go forward or aft, until one of the seamen, hearing the serving man vainly shouting, asked me if that was not my name which was being spoken so loudly.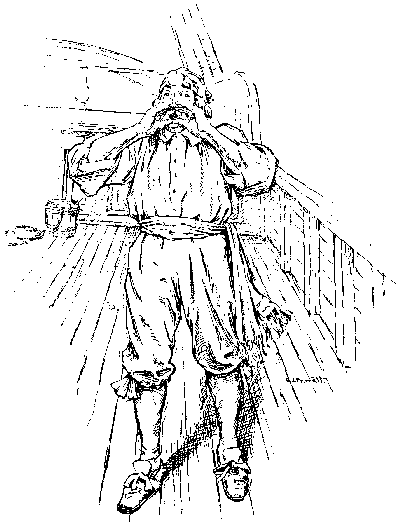 Whereupon I awoke to my senses, and went toward the stern to meet this fellow, who was bawling at the full strength of his lungs, as if he would make his tongue do the work of a trumpet, and by him was led into the great cabin where stood my master, as if he had been awaiting my coming.
From that moment until this I have never sought for employment; there has ever been something which I should do for others, or was in duty bound to do for myself, until I am come to think that he who goes into a new world to help in building there a city, much the same as fastens himself into a treadmill in such a fashion that he may not contrive his own escape.
Now did I learn what it meant to act the part of body servant to such as Master Minuit, and was not a little surprised at finding that he had two others, one a man grown, and a second who was three or four years my elder, both of whom took advantage of every opportunity to lord it over me when the master was not within hearing.