Hans Braun and Kryn Gildersleeve

Hans Braun and Kryn Gildersleeve
When I was done with my task, instead of going into the forward part of the ship where I had lived from the time we left Amsterdam, my master gave orders that I should remain nearby where were his own quarters, and sent me with his other servants, of whom I have already told you somewhat.
The elder, who might have been thirty years of age, was named Hans Braun. He was as sour-visaged, square-jawed, thick-headed a Dutchman as ever stepped foot in Holland; one who knew not the meaning of the word friendship, and cared for his own comfort and his own pleasure more than he did for the master he served, or for anything whatsoever.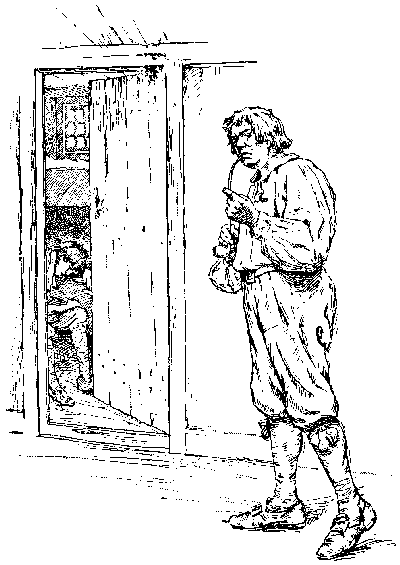 When I came to have a good look at him, as he beckoned me to follow to that portion of the ship where he and his mate found lodgings, I said to myself that there at least was one in this New World who would never lend a helping hand, and would not hesitate to do a wrong if thereby he could compass his own ends.
The other servant was Kryn Gildersleeve, who, mayhap, was three or four years my elder; a dull, heavy lad, who did not give promise of being a cheerful comrade, and yet I would have put faith in him under the same conditions that I would have suspected Hans of working me harm.
If I have been overly careful in speaking of these two fellow servants, it is because of our being at a later day so placed that they could do me much of evil, or of good.
I had rather an hundred times over have gone into my meaner lodgings in the forward part of the ship, than spend the night in what were most comfortable quarters, with such as Hans, and yet it was not for me to say whether I would come here or go there, after the command had been given. Before another day was very old, however, I understood that, without having spoken a wrong word or done anything against him whatsoever, Hans Braun would never be my friend.