Trouble with the English
I do know this, however, that an English vessel came to anchor one certain day off the town, and her captain said it was his purpose to go up the river to one of our posts called Port Orange, there to trade with the Indians on his own account.
Master Van Twiller forbade his doing so; but after remaining five days, the English captain sailed up the river, and then it was that our new Director, calling together all the men in the town, armed three vessels and drove the English out of the river.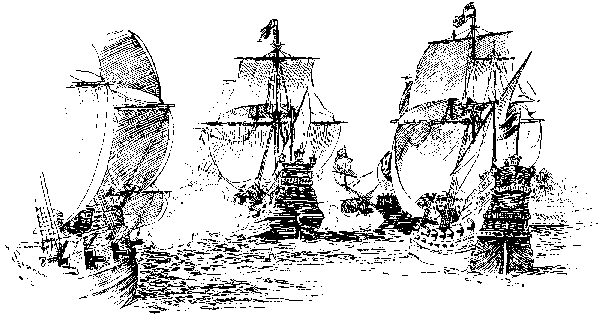 I also know that he brought trouble to himself and to the West India Company, by doing that which the English people in Plymouth claimed he had no right to do, and it was much like this:
Our Dutchman, Adrian Block, had sailed up a river to the east of us, which he called the Fresh River, and Master Minuit had traded there with the savages to the extent of near ten thousand beaver skins, besides other furs, each year.
Now it seems the English of Plymouth claimed that this land had been given them by King James, and so notified Master Van Twiller; but he sent his secretary with a lot of toys, and bought from the savages that piece of land called Connittecock, building thereon a trading post, in which we mounted two cannon, and called it the House of Good Hope.
Because of this the English of Boston, together with those in Plymouth, set about driving the Dutch away from Fresh River by building another post a short distance above them, and there, so I learned from the traders who came to New Amsterdam, we were having considerable trouble.
Master Van Twiller contrived also to get himself into trouble with the English at Jamestown, and did have a pitched battle with them at our forts at Nassau, on the Delaware River, gaining a victory, but giving the Dutch a bad name with their neighbors.