Driving Out the Swedes
In the fort were forty-six men with a captain, and, as a matter of course, they could do no less than surrender when called upon so to do, for our force numbered upwards of seven hundred, and we had sent from the fort in New Amsterdam, on board the vessels, guns enough to tear the fort into splinters within an hour.
The Swedish captain said all he could to soften the heart of Director Stuyvesant, who would listen neither to entreaties nor arguments, save that he permitted the garrison to march out with full honors of war, and immediately this had been done, a number of our men, sufficient to hold possession of the place, were sent on shore.
Then nearly all the people of the fleet assembled on board the De Wagg, to hear our preacher give thanks to God for the bloodless victory which had been won, and within four and twenty hours we were on our way to Christina, where, so we learned at Trinity, there was a force of only about thirty men.
Here the trumpeters blew their shrill blasts again in front of the fort and surrender was demanded; but the governor of the colony was not minded to give in without at least a struggle of the tongue. From the second until the fifteenth day of September, we lay there at anchor while he protested against what he called high-handed proceedings, trying vainly to prove to Director Stuyvesant that he and his following had as much right in the wilderness of the New World, as had the Dutch.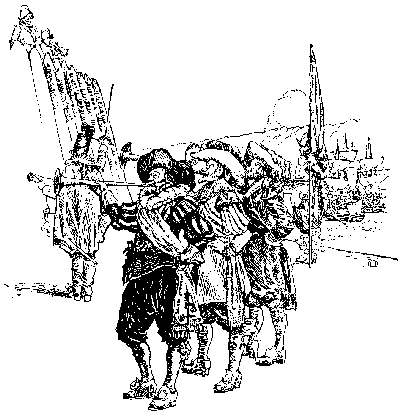 It was all in vain, however, and, as may be expected, the result was that we captured Christina as we had Trinity, thus putting an end to this colony of New Sweden.
Again did we give thanks to God, although we had done a wrong, and it was while we were thus praising the Lord, and giving much credit to ourselves for having conquered without bloodshed seventy-seven men with a force of seven hundred, that a messenger came in hot haste from New Amsterdam.
In the twinkling of an eye our rejoicings were turned to something very like fear.