On Broad Way
It was indeed a brave sight to see the people of quality walking on Broad Way, or strolling to and fro upon the Bowling Green, of a summer evening, and although I so disliked the man, I must confess that Director Stuyvesant and his family went far toward adding to the fine array.
The ladies dressed exceeding gay in high-colored gowns of silk, satin, or some other such stuff, open up and down in front of the skirt that their petticoats, ornamented with fine needlework, miglit be seen. Their hose were of bright colors, and the low shoes, with very high heels, had bows of ribbon, or buckles of silver, even of gold, which added much to the looks of the wearer. It was the silken hoods which I disliked, for those ladies curled or frowzled their hair in a most bewitching fashion, afterward covering it with powder, and the hood concealed far too much of it.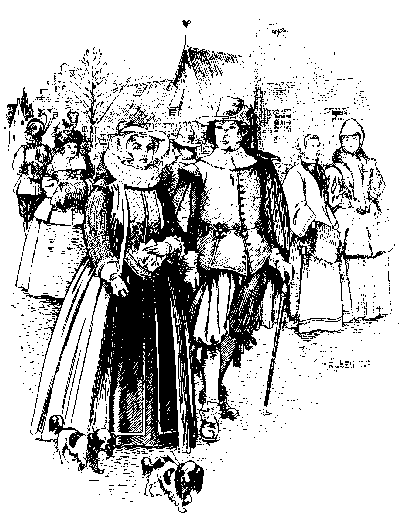 To see the rings set with precious stones on their fingers; the lockets, or toys, of gold hanging over the stiff fronts of their waists, and, on Sundays, the Bibles and psalm books richly decked with gold and hanging by golden chains to their waists, one would hardly believe that we were living in such a wild land, with savages on every hand, who might at any moment be at our throats.
Our gentlemen did not allow the ladies all the bravery of attire, as you shall hear when I tell you how Director Stuyvesant was dressed when, standing half- hidden behind the whipping-post one evening, I saw him parading with his wife and sister, showing by the way he stumped along with his head high, that he believed himself the greatest man this side Holland.
He wore a long coat of blue velvet on which were silver buttons, and the huge flaps of the pockets were trimmed with silver lace. His waistcoat, so long that the front came nearly to his knees, was of buff silk embroidered with silver threads, and fastened by buttons of gold in which were set jewels of different colors. His breeches of velvet were of a deeper hue than the coat, while the low shoe had on it a silver buckle so large that the wonder of it was how he could move his foot.
He wore on his head a soft black hat, whose wide brim was caught up on one side with a gay knot of blue ribbon that fell down athwart his big, white wig. From the knot on his hat to below the black silk hose, he was, when viewed on one side, a very gallant gentleman; but turn hiin about so that his wooden stump with its heavy bands of silver might be seen, and one could not but remember the battle at St. Martins, where he left his leg during a desperate fight.