Director Petrus Stuyvesant

Director Petrus Stuyvesant
On the eleventh day of May, in the year of our Lord, 1647, a fleet of four large vessels sailed into the harbor of New Amsterdam, bringing the new Director, Petrus Stuyvesant, his family, servants, soldiers, and many laborers.
A one-legged man was Master Stuyvesant, who had been a brave soldier, and, later, a governor of the island of Curaçoa, wherever it may be. That he believed he was of considerable importance in the world, could be told by his manner of moving about and of holding speech with any who was lower in station than himself.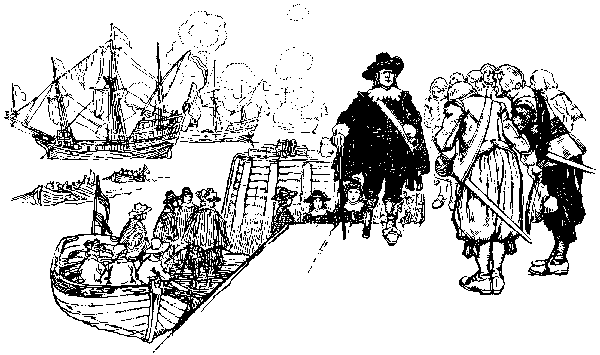 It was as if he were too high and mighty to concern himself with what might or might not be done in the storehouse, even though through that building came the greater portion of all the money the West India Company received from the New World.
Do not understand me as saying that he gave no heed to such portion of the Company's business as was under my charge. He took note of it, but not as Master Minuit would have done, by coming daily in person to see for himself that I, and all under me, were doing full duty.
Director Stuyvesant sent the secretary, Master Van Tienhoven, to learn what was being done, and that gentleman, as if believing I was not making the best bargains for the Company, spent a goodly portion of his time in the office of the storehouse, under the pretext of allowing me to go here or there as I pleased.
While Master Kieft was in office, I had so much of labor to perform that two or three weeks, even a month on a certain time, would pass without my having been outside the building.