Making Ready for Trade
At the time, however, there was no thought in my mind save that if Master Minuit should buy this island of Manhattan with all the trumpery goods he had in the great cabin, then would he be paying a price far too small for even the least portion of it.
You can well fancy that I did not neglect any work while thus looking with contempt upon the goods before me. My duty was to make quick despatch of the task set me, and at the same time take good heed that it was done in such a manner as to win the approval, if not the praise, of Master Minuit.
Many a long hour did I spend putting the childish things into the chest, and in taking them out and exchanging for others, when those in company with my master believed we were gathering too much of value, if indeed there could be value to such goods. When it was done, I had the idea that Master Minuit was pleased with me, for he said that from then on I was to hold myself close to his person, going where he went, and stopping where he stopped.
I make but a poor attempt at telling the tale, otherwise I would have said that when we were first come to anchor, some of those people who had been sent over by the West India Company in advance of our ship, came on board the Sea Mew to speak with my master; and, as each in turn was done with his business, or with his pleasure, as the case might be, orders were given him that the savages be told they were to meet Master Minuit on the shore nearby where we were then lying at anchor, to the end that he might have speech with them.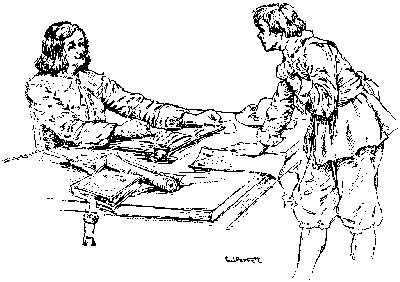 It puzzled me not a little to understand how he could have speech with the brown men, when they did not speak in the same tongue as did he; but I had enough of wit to understand that it did not concern me. Master Minuit most like had considered well the matter.