An Important Introduction
It may have been in a spirit of fun, or that perhaps Master Marais had in mind to do me a good turn, but however it came about, he said as gravely as if I were the burgomaster's son:
"Heer Peter Minuit, allow me to present to you Master Peter Hulbert, who has had the misfortune to lose both his father and his mother by death."
Master Minuit was not unlike many others whom I had met, save that there was in his face a certain look which bespoke a kindly heart, or so it seemed, while he gazed at me much as he would at a young calf that he had in mind to purchase.
I never did lay claim to being comely, either as boy or man; but yet it must have been that this sturdy visitor saw something about me which attracted either his closest attention or his charity, for he said with a kindly smile, as he patted me on the head:
"Well, namesake Peter, since nearly all your English friends have gone to America, what say you to voyaging in the same direction?"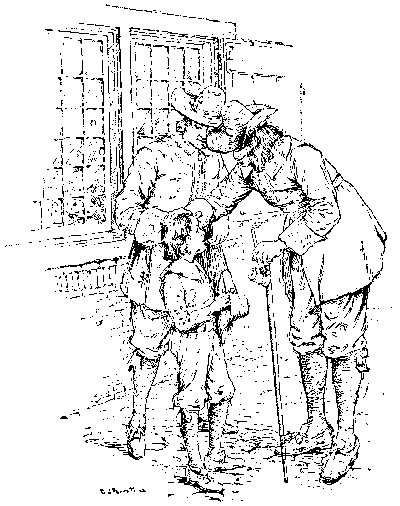 I failed to understand the meaning of the question, and probably stood staring at him like a simple; yet at the same time I noted a quick glance from Master Marais, as if the Director had said something which caught his attention. An instant later, he said with more of seriousness in his voice than seemed to me the matter warranted:
"It may not be well, Heer Minuit, to put into the lad's head a desire that cannot be gratified."
"And why may it not be?" Master Minuit asked, wheeling sharply about. "If namesake Peter has no friends in Holland who can take charge of him, why may he not go to that land on the other side of the world With me? A youngster of ten years might find many a meaner post than that of body servant to the Director of the new town in America."