The Bargain
Now lest you think I am given to using too many words, it is enough if I say that at the appointed time I met Master Marais at the University, and there learned from him that Master Peter Minuit had offered to take me as servant to that place in America which was called New Netherland, pledging himself, in due time, to set me on a path which would lead to honest manhood. He agreed to provide me with such an outfit as would be needed, and to bear the charge of my living while we remained in Holland.
Master Marais, after first stating that it was for me to decide, since my future, perhaps, depended upon the answer to be given Master Minuit, advised that I accept gratefully the Director's offer.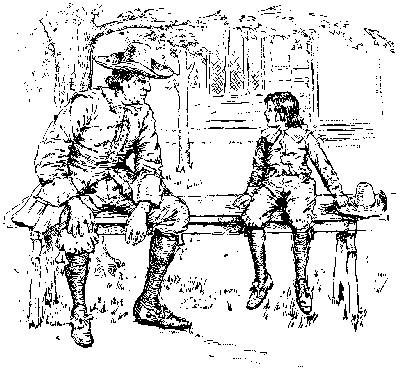 And so I did. What other could a lad, who had neither father nor mother, say, when he was given a chance to earn honestly that which he needed for the care of his body?
To me, boy as I was, the long voyage overseas had no terrors; but was rather an inducement, for I would see strange sights before coming to the New World, and then who should say that I might not, one day, rise to be as great a man as was Master Minuit?
Master Marais told me I had decided well, when I said that I believed myself fortunate in having such an opportunity, and straightway took charge of my affairs, having been so instructed by my new master. I was given of clothing more than ever I had before, and fed until I was no longer hungry, during such time as I remained in Leyden.
Then came the day when Master Marais sent me to Amsterdam with a letter to Master Minuit's agent, and from that hour I was no more than any parcel of goods, which the West India Company counted to send into the New World.
It troubled me little, however, that I was considered of no importance, for in exactly that light did I look upon myself; yet I could not but wonder, if so be I was servant to the Director of the new country in America, that no one told me to do this or do that, but left me to my own will, save that I was ordered to keep strictly the rules laid down by the mistress of the house in which I lodged, until such time as the Sea Mew was ready to set sail.
Then it was that one of the sailors came to my lodgings to summon me, and I know not how it was he chanced to learn of my whereabouts, for I had had speech concerning my affairs with no person in Amsterdam, although it may well be that Master Marais had sent information concerning what was to be done with me.