Disobeying Commands
Not above ninety obeyed this command, and the greater number of those who did so were, in one way or another, under Master Stuyvesant's thumb.
At the same time guards were placed at the city gates to prevent any from leaving the city over the land, and every farmer was commanded to send in all the grain he had on hand, together with what his slaves could thresh during the next eight and forty hours.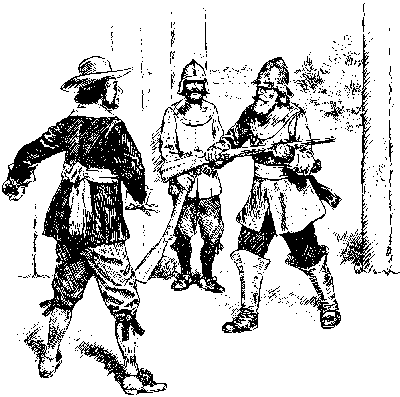 Martin Kip laughed at this last order, declaring that he would hold all he had of food-stuff at the muzzle of his gun, and no man in the country should force him to give up to the use of others, what might be needed for his own family and for his slaves.
Nor did he stand alone in such refusal; I heard of but two who obeyed, and one of these was the schout who had been appointed to office at the time when Master Stuyvesant refused to give us the rights called for by the charter which had been sent from Holland.
It must be told to the credit of the Director, that he set a good example of obedience, for all his servants and slaves were hard at work hauling grain into the city from his farm above the swamps, or engaged in threshing that which yet remained on the stalk.
It seemed as if Master Stuyvesant believed it would be possible for him to hold out a long while against the English, and he was preparing for a regular siege.